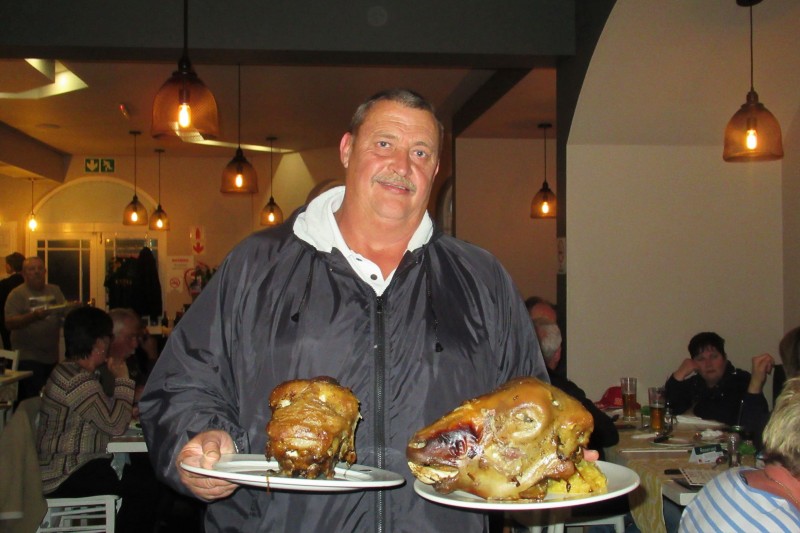 'n Mens sou dink die inwoners van 'n voormalige vissersdorpie soos Mosselbaai wat in 'n gesogte toerisme-mekka ontpop het, is meesal vis- en seekosliefhebbers . . .
Moenie glo nie - so divers, kontrastrerend en uitsonderlik soos die natuurlewe in dié Karoo-by-die-see-dorp is, so uiteenlopend is die mense wat hier kom woon, werk en wandel.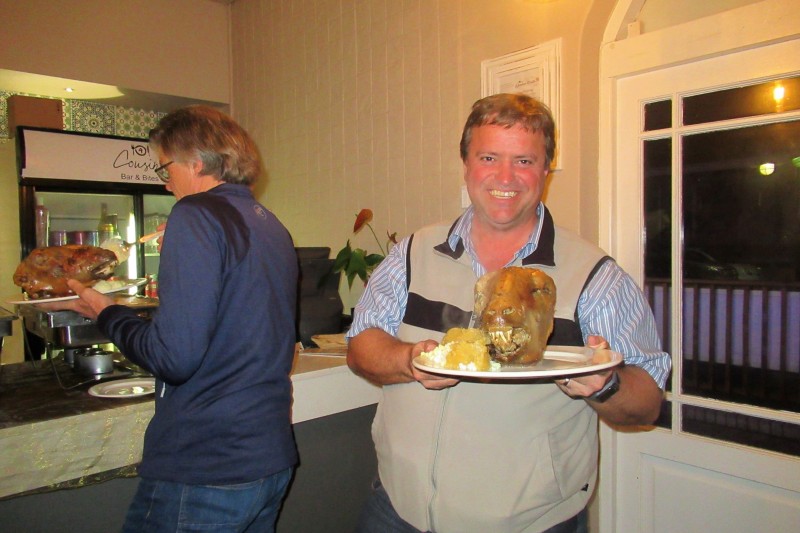 'n Lighartige Facebook-plasing met foto's van 'n gereelde instelling by 'n plaaslike restaurant waar egte, regte "boerekos" soos gebakte skaapkop, afval en skaapnek spesiaal elke maand of twee op bestelling voorgesit word, het bewys hoe sterk die vleislus nog in baie Suid-Afrikaners se bloedlyn loop - al woon hulle nou langs vrugbare viswaters!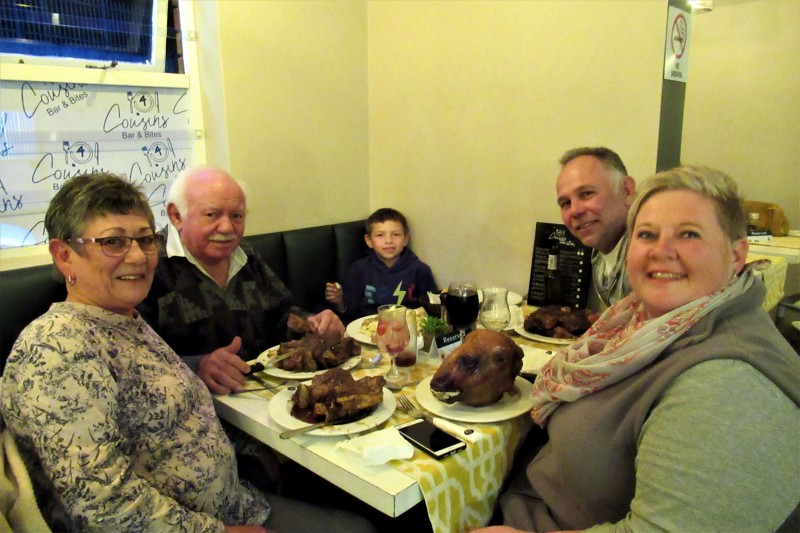 Die FB-plasing - weliswaar met grappige, geposeerde "kannibaal"-foto's om die gesellige gees te weergee, het soveel aftrek gekry dat dit by 25 000 mense gaan draai het:
Ons plaas nie gewoonlik kosfoto's nie . . . maar daar is kos EN kos en 'n klomp skaapkopeters bymekaar is 'n fynproewersgilde in hul eie liga . . .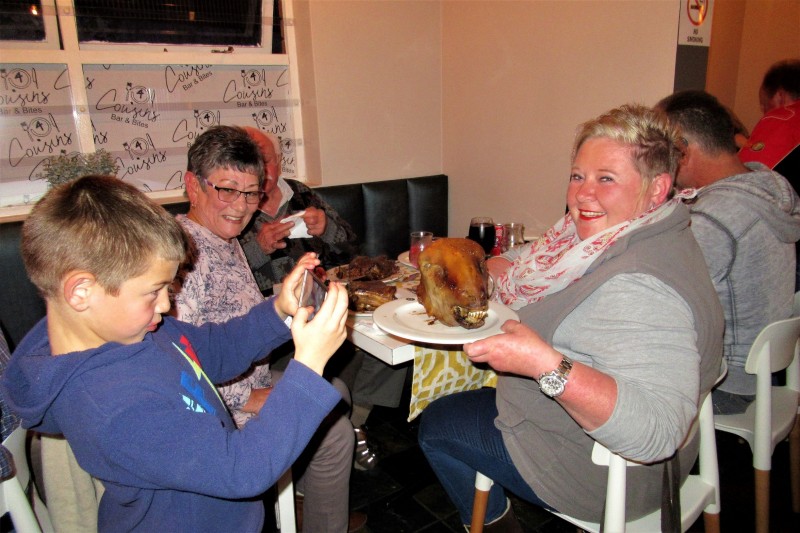 Ons weet nie of dit die harsings, tong of oë van 'n skaap is wat mense so gemoedelik en kuierlustig maak nie, maar die afgelope twee aande se spesiale skaapkop-etes by 4 Cousins Bar & Bites het ons oortuig daar is 'n spesifieke voedingselement in 'n skaapkop wat selfs dagga-olie troef as dit by lag-, soen- en danslus kom.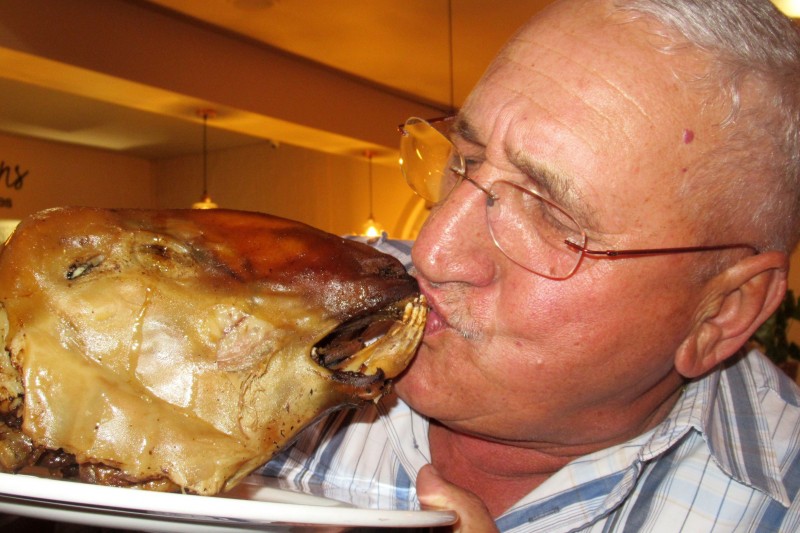 Paul Clarke het skaars musiek begin maak, toe is die skaapkopeters op die vloer . . . en sowat van tandewys het ons lanklaas gesien - letterlik van oor tot oor . . . !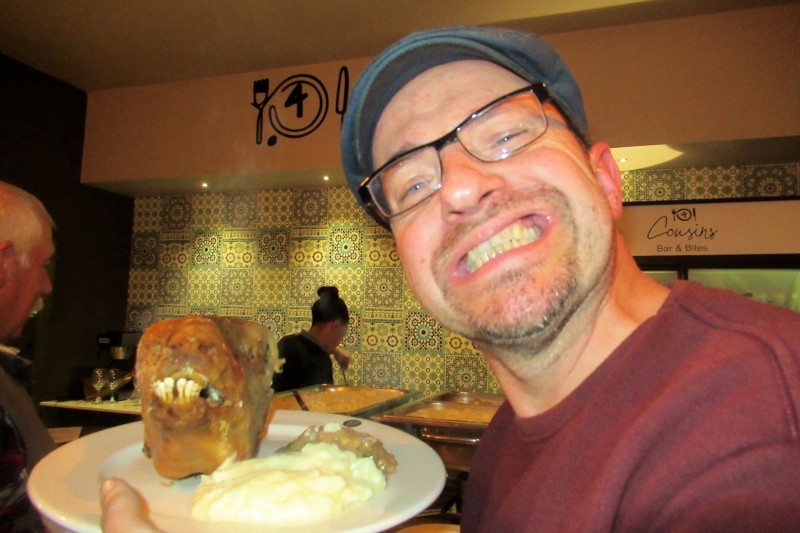 Behalwe die plesierigheid, is dit ook 'n ernstige besigheid en 'n geoefende kuns om so 'n skaapkop netjies uitmekaar te haal om by die sappigste dele uit te kom en (volgens die kenners) die "smetterige" neusgate te vermy . . . hoewel ons 'n amateur raakgeloop het op wie se bord letterlik net 'n paar bene oorgebly het.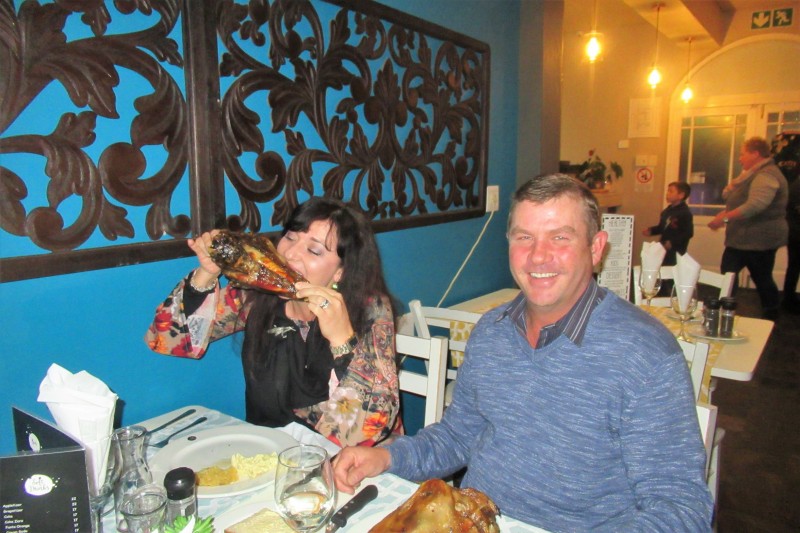 Ons het gekyk, geproe en die foto's is genoeg bewys dat diegene wat nog nie 'n skaapkop geëet het nie, dalk 'n noodsaaklike voedingselement kortkom wat die lagspiere prikkel en die bene laat wikkel . . .
'n Springboktrui wat in 'n gelukkige trekking gewen is, het ons laat wonder of skaapkopetery nie ook as 'n wêreldsport kan kwalifiseer nie . . . ons dink dis EEN wêreldbeker wat Suid-Afrikaners soos Eddie Jenkerson loshande sal wen . . .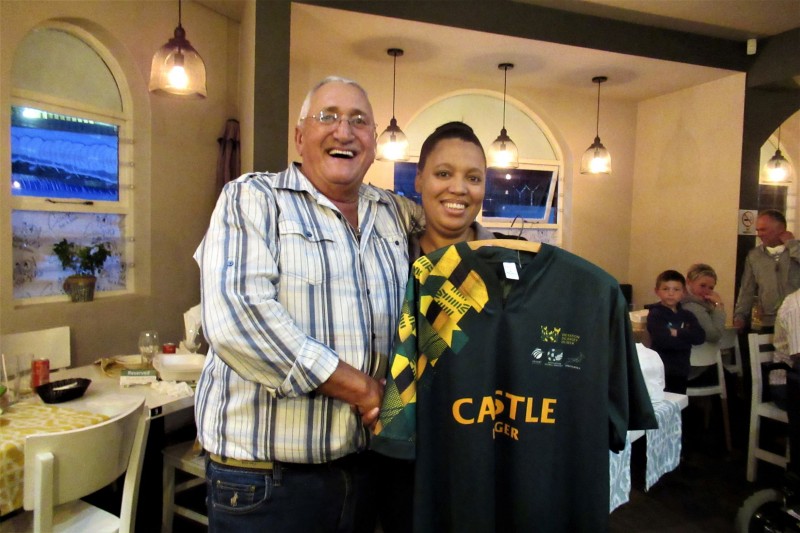 *Die skaapkop-etes by 4 Cousins Bar & Bites is 'n gewilde en gereelde instelling en diegene wat nie in skaapoë wil vaskyk nie, kan skaapnek of afval saam met al die ander lekker bykosse bestel . . . of iets anders bestel en deel in die gemoedelikheid wat dié skaapkoppe outomaties na die tafel bring.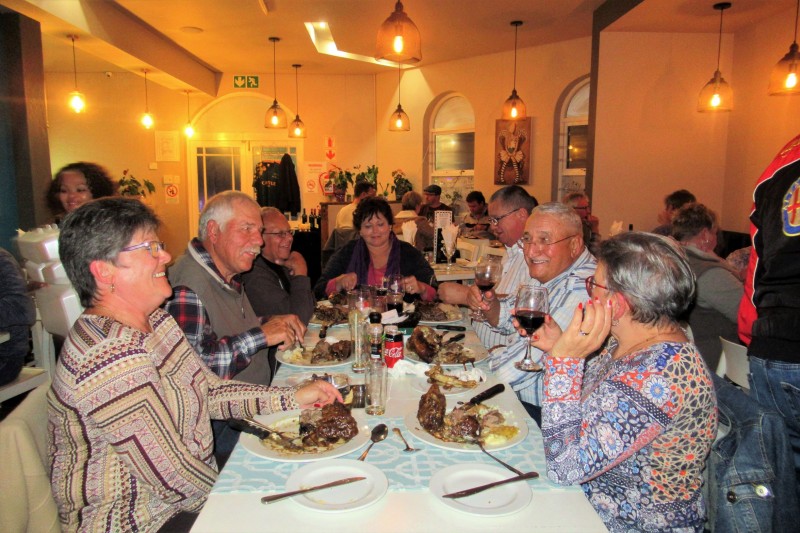 Bel gerus vir Hennie en Melinda van Greunen by 4 Cousins Bar & Bites in die Super Spar-sentrum in Da Nova om plek te bespreek vir die volgende skaapkopete by 044 690 3332.
Meer foto's op ons Facebook-blad: https://www.facebook.com/mosselbayontheline/posts/2457233477841238?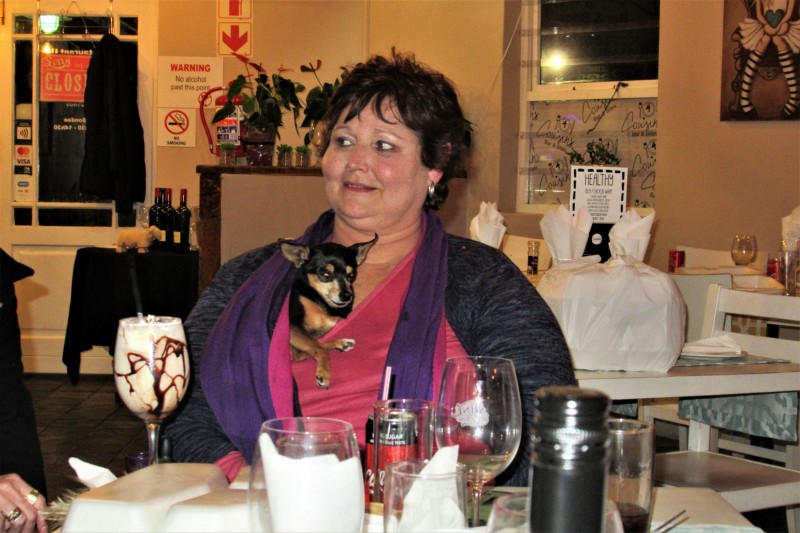 Lees ook:
Related Articles: