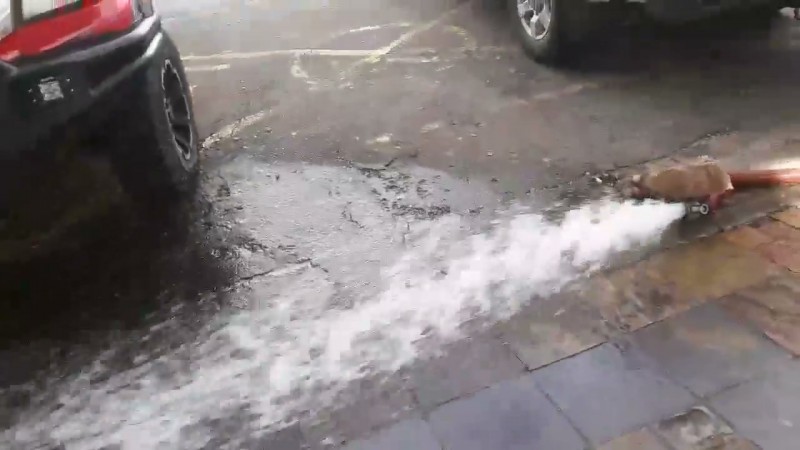 Water is globally regarded as the new GOLD and greater awareness and responsibility is needed from ALL humans to conserve this most precious commodity that sustains all life on the planet.
In Mossel Bay, residents, as well as authorities and contractors, will also have to practise greater care to combat the unnecessary waste of water at home, as well as at building and construction sites.
Water continuously leaking (again!) at the Checkers Bayside Centre in Mossel Bay this week had residents concerned over the unacceptable water wastage in the midst of the severe drought.
The centre manager, Stan Stander, explained that the contractor, Plumb-Rite, is battling to get the specific parts needed to fix the problem.
However, 4 months ago water was pumping like a fountain from the same location when the centre's dysfunctional water meters were replaced by the municipality . . . and afterwards, a waterpipe also burst in the same region?
When we enquired about the unacceptable water waste, we were told letting the water run for hours is "nothing" compared to what is going on in other towns . . .
However, the moment we started taking photos, the stream of water miraculously stopped?
This is how the conversation went:
Hoewel drinkwater word gemors wanneer 'n winkelsentrum of woonkompleks se watermeter vervang word en is daar nie maniere hoe dié water in 'n watertrok opgevang kan word nie?
Só het 'n gesprek op Woensdag 14 Junie 2019 by die Checkers Bayside Sentrum in Mosselbaai verloop:
MBOTL: Sjoe, wat gebeur dat die water so wegloop?
Tegniese span: Ons vervang die watermeter wat lankal al nie meer werk nie.
MBOTH: Kan die water nie dalk opgevang word nie - almal moet mos water spaar . . . is hier nie 'n munisipale
watertrok waarin dit gepomp kan word nie?
Tegniese span: Ons moet die pype leegbloei voor ons die werk kan doen en daarna weer leegbloei. Die watertrok is nie beskikbaar nie - hulle ry water aan na Herbertsdale . . . ons voer net bevele van die munisipaliteit uit en hulle betaal goed.
MBOTL: Dis mos verskriklik dat soveel water net wegloop . . . hoe lank gaan dit so loop?
Tegniese span: Die drie ure wat dié water loop is NIKS vergeleke met wat in ander provinsies aangaan nie . . .
Sela. En die prys van drinkwater in huishoudings raak al hoe duurder en boere vergaan van die droogte . . .
Ironies genoeg loop meer water met dié klein projekkie weg as wat die watertrok ten duurste Herbertsdale toe kan vervoer . . . en meer as wat al die winkeleienaars in dié sentrum saam in 'n maand kan gebruik . . . en wie betaal indirek op die einde?
As soveel water gemors word om net 'n watermeter te vervang, eis 'n mens oor die verlies by grootskaalse konstruksiewerke . . . ?
WAAR is die wyse tegnici wat 'n plan moet maak of gaan ons eers wakker skrik as daar letterlik niks meer water is nie?
WAT VAN ONTSOUTINGSAANLEG ?
1 September 2019
Al lyk dit amper regdeur die jaar soos LENTEDAG in die sonryke Mosselbaai-omgewing, wys ons graag ook hoe dit op die AMPTELIKE Lentedag lyk .. . en hoe selfs die walvisse stert(s)waai en die koms van die somer met hul kalfies geniet.
Plaaslike fotograaf Riaan Human se foto's van die branderplankryers weerspieël ook ware Lentevreugde . . .
* As die winter en winterreën egter regtig amptelik verby is, voorspel dit niks goeds vir Mosselbaai se damme en watersituasie wat klaar kommerwekkend is nie. Die munisipaliteit het hoeka verlede week gewaarsku dat dieselfde drakoniese straftariewe wat Stad Kaapstad verlede jaar ingestel het, ook hier toegepas gaan word as die damvlakke aanhou daal . . . Inwoners moet dus maar vroegtydig die krane dophou as hulle nie met hemelhoë waterrekeninge gevang wil word nie.
* Daar is sprake dat Mosselbaai se peperduur en ongebruikte ontsoutingsaanleg wat in 2010 teen R210 miljoen gebou is en wat 15 miljoen liter water per dag kan lewer, dalk nou as noodmaatreël ingespan gaan word, maar geen besonderhede hieroor is nog bekend gemaak nie.
Nickey Le Roux, wat tot Vrydag nog die nuusredakteur by die Mossel Bay Advertiser was, begin glo môre (Maandag) as munisipale kommunikasiebeampte by die Mosselbaai Munisipaliteit werk en hopelik sal sy groter deursigtigheid oor munisipale sake kan teweegbring, aangesien sy die eerste gekwalifiseerde persoon vir dié pos in meer as twee jaar is.
* Die rampspoedige en peperduur hofsaak-paadjie wat die nuwe ontsoutingsaanleg in Kaapstad loop, is egter allermins 'n positiewe voorbeeld. Die R60 miljoen-aanleg by die V&A Waterfront wat noodverligting tydens die droogte moes verskaf, staan al sedert Februarie in onbruik weens die besoedelde seewater rondom Kaapstad.
Boonop skuld Stad Kaapstad glo die eienaar-kontrakteur, Quality Filter Systems (QFS), sowat R21.5 miljoen weens agterstallige betaling sedert Augustus 2018.
QFS het Stad Kaapstad nou gedagvaar weens kontrakbreuk en verwante verliese.
Die aanleg, wat veronderstel is om sowat 2 miljoen liter drinkwater per dag te lewer, staan nou stil terwyl die dispuut aan die gang is. QFS beweer die seewater wat in die aanleg gevoer moet word, is 40 keer "vuiler" as wat in die tender-data gespesifiseer word en dus moet hulle ekstra uitgawes aangaan om die water te suiwer.
* Ons het in die vorige plasing verwys na die erg besoedelde seewater rondom Kaapstad wat nou selfs plaaslike visspesies vergiftig.
QFS se besturende direkteur, Herman Smit, het gesê:
"Hulle (Stad Kaapstad) het die private sektor gesmeek om te kom help (tydens die Dag Zero-waterkrisis). Ons het ons eie geld gevat, 'n aanleg gekoop, dit in rekordtyd geïnstalleer . . . en toe draai hulle om en betaal ons nie eens nie. Watter boodskap stuur dit aan beleggers, banke en mense in die toekoms?"
(Skakel na volledige berig en Carte Blanche-program onderaan):
* Die nuwe minister van omgewingsake, bosbou en vissery, Barbara Creecy, het 'n welkome nuwe aanslag na dié bedryf gebring waarmee sy die gewone publiek en belanghebbendes wil betrek by verantwoordelike en volhoubare omgewing- en marienesake, asook konsepwetgewing vir ruimtelike marienebeplanning.
Selfs Mosselbaaiers wat bekommerd is oor al die beplande ontwikkelings by die Mosselbaai-hawe en die impak daarvan op die ekologie, marienelewe, infrastruktuur en karakter van die dorp, kan hul insette en voorstelle direk aan die minister rig.
* Meer onder foto's:
Lees meer hier oor Kaapstad se waterontsoutingsaanleg:
https://www.news24.com/…/desalination-plant-battle-city-of-…
https://www.news24.com/…/dirty-sea-water-brings-cape-town-d…
https://www.mosselbay.gov.za/mossel-bay%E2%80%99s-desalinat…
Kyk ook die Carte Blanche-program hieroor: Desalination Debacle | Carte Blanche | M-Net
https://www.youtube.com/watch?v=YGsjcZJL1qg&feature=youtu.be
Meer foto's en belangrike inligting op ons FB-blad:
16 September 2019:
Related Articles: