An amazing walk from Wilderness to Victoria Bay along the railway tracks includes a breathtaking bridge crossing, dark train tunnels and glorious coastal views . . .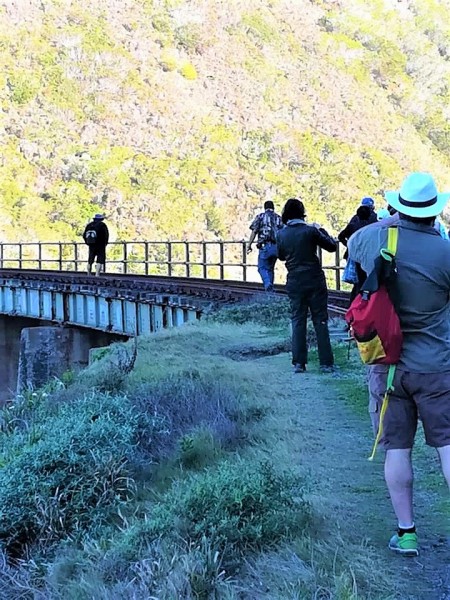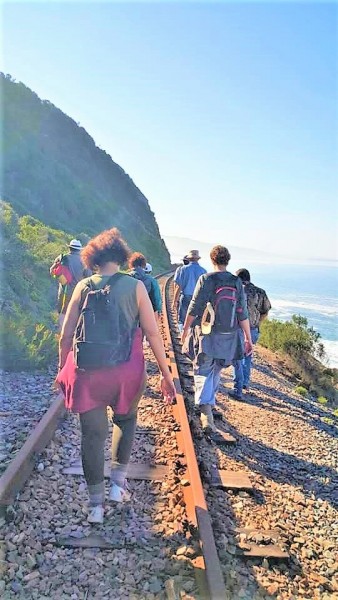 The 2,23 km walk from the parking area in Wilderness to Victoria Bay is an easy slackpacking hike that takes you past the famous "Kaaimans Grotto" that is now only reachable via the old Outeniqua Choo-Tjoe railway line. The latter is not in use anymore as large sections of the track are still covered by rubble and soil from the landslide in 2006.
A group of eager hikers took these beautiful pics and videos to give you an indication of what to expect! Thank you Ria van der Westhuizen, Anneke Cilliers and Elna Gous for this REAL LIFE virtual experience!
The Walk:
At the westerly end of Wilderness there is a parking area where you can leave your car (Sands Road). Above there is the railway line; follow it leaving Wilderness behind. After about 700 metres and passing the first tunnel, you'll reach the "Kaaimans Grotto", in the past a very popular restaurant only reachable via train, now a place of eccentric artwork and pilgrimage run by Clifford and friends who love to show you around. The cave itself is not supplied with electricity, but equipped with fresh water, toilet facilities, cooking facilities and a wooden deck with unbeatable views. The cave also offers accommodation for up to 14 people – for the courageous ones.
Keep moving along the railway line in westerly directions until you reach a bridge crossing - the Kaaimans River mouth. Further on there are two more tunnels and another bridge before you'll reach Victoria Bay, famous for swimming and surfing.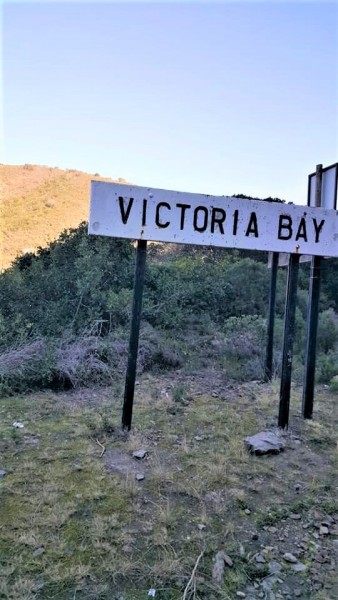 Please note: This walk must be in a group (safety first).
Take a lunch with you and have it on your way back from Victoria Beach at the Kaaimans Grotto, enjoying the view – and please don't forget to leave a small contribution behind for using their deck, it is much appreciated!
Beautiful view . . . spot a whale? Anneke Cilliers took this video of the breathtaking scenery . . .


CAREFUL WHERE YOU STEP! Ria van der Westhuizen took this video of the railway track to warn hikers to take care . . .




Anneke Cilliers put these stunning videos together of the Kaaimans Grotto where a few people have artfully created an "out of this world" experience . . . Go and have a look for yourself!
See some more photos on our Facebook page:
https://web.facebook.com/mosselbayontheline/posts/2184687935095795