OH MY SOUL - Wôtalot of POT is on its way to hit Mossel Bay . . . ?

This coastal gem upon which Bartolomeu Dias stumbled some 530 years ago has always boasted a huge, welcoming HEART offering safe shelter and prolific sustenance to every creature from land, sea or sky that set foot here over the eons.
This coming week, however, the townfolks will be bending over backwards to set yet another record by showcasing the town's SOUL to all and sundry with the biggest POT of SOUP ever as the focus point of The Soul Festival - a unique POTpourri of soulful art, live music and entertainment like only Mossel Bay peeps can dish up.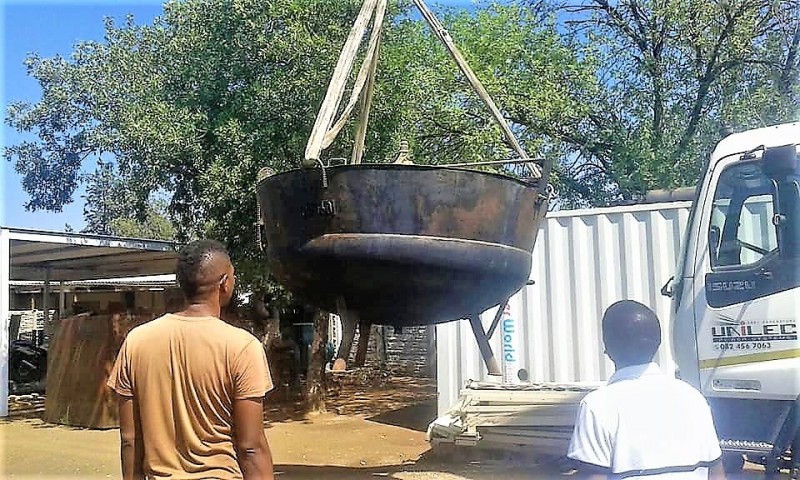 The mammoth number 760 steel pot, measuring more than 2M in diameter and weighing more than 2,5 ton, dwarfs even the team of helpers who battle to load it onto a truck. The pot will be used to prepare soup for some 3000 festgoers - mainly as a free meal for the underprivileged.
Although it involuntarily reminds one of cannibalism cartoons, this particular specimen comes with a truckload of innovative utensils and megafters to literally stir the pot and set the stage for the festivities.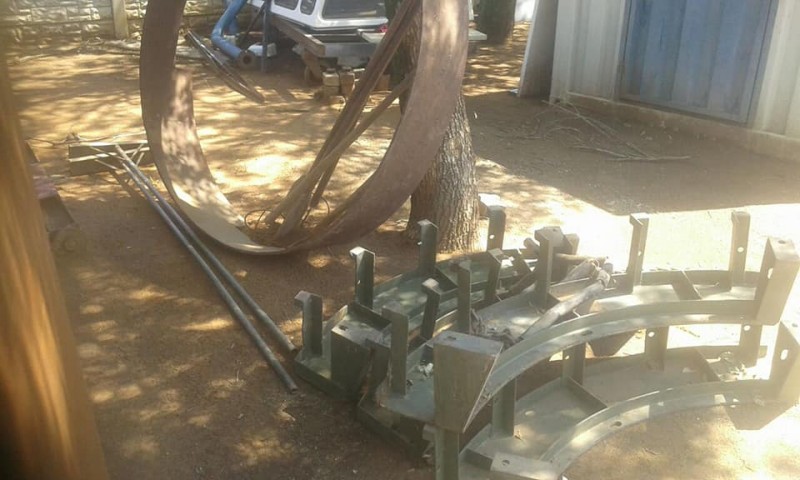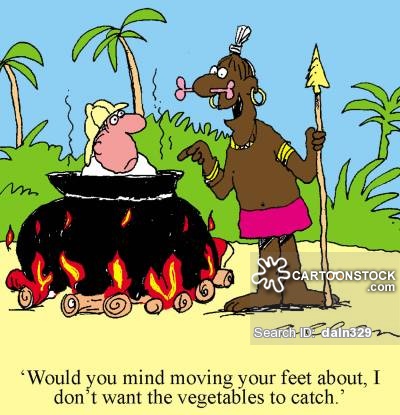 By the time the pot arrives in Mossel Bay for next weekend's festival from 13 to 15 July, it will be unrecognizable and entitled to call any kettle black!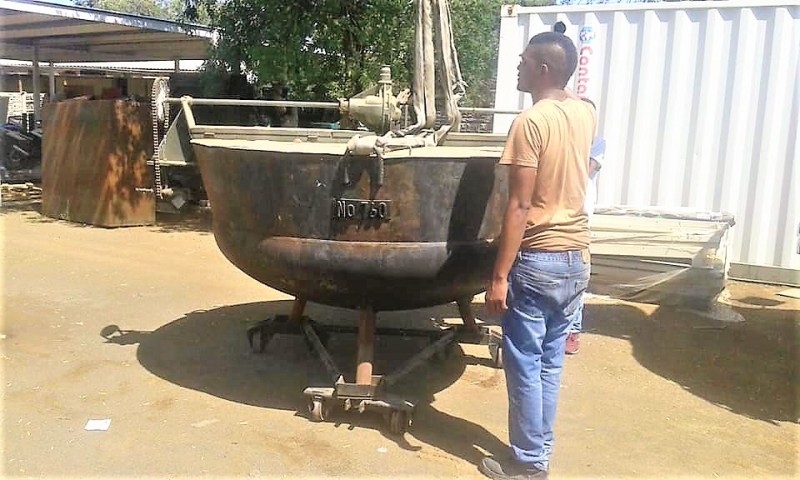 But the story of the pot, the people behind its resurrection and its journey to Mossel Bay, is a tale on its own for another day. Suffice to say, the pot, like all other creatures who land in Mossel Bay by hook or by crook (or crane), is here to stay!
Now is the time to get into the groove and start the count-down to yet another FIRST for Mossel Bay - a Fest with Soul to warm the heart and body and the best way to counter the icy weather! The organisers made sure the Soul Festival offers everything that touches your soul and senses - art, literature, music, great food & wine, travel, crafts, craft beer & spirits, coffee and more! And best of all - Entrance is FREE to ensure no soul is excluded.
Here are some highlight you can look forward to:
* 25 Participating Restaurants from Gourits to Glentana
* A Thousand Sensations of Craft Beer, Craft Gin & Wine at the Festival Arena
* Café Gannet Festival of Wine
* Soulful Tango ensemble performing in the Diaz Museum
* Free festival transport supporting responsible driving incl. the famous Diaz Express
* Amazing line-up of artists, authors and celebrity chefs
* World record attempt for largest "driebeenpot"
* The pot will be simmering for 12 hours while Die Wasgoedlyn keeps festival goers company with the "pot aan die prut hou" konsert
* Deli & lifestyle stalls
* Meet Ina Paarman, Renette Vosloo and funny chef Lebogang Thlokana
* Irene Fisher & Irma de Klerk will chat about their books and share the stage with local authors
* Gourmet coffee hall
* Beer tent & live entertainment
* Complimentary Dial a Driver service within Mossel Bay town

* Film Festival at Monroe Theater
* Vintage High Tea as well as a Little Ladies Party
* Fun for the whole family!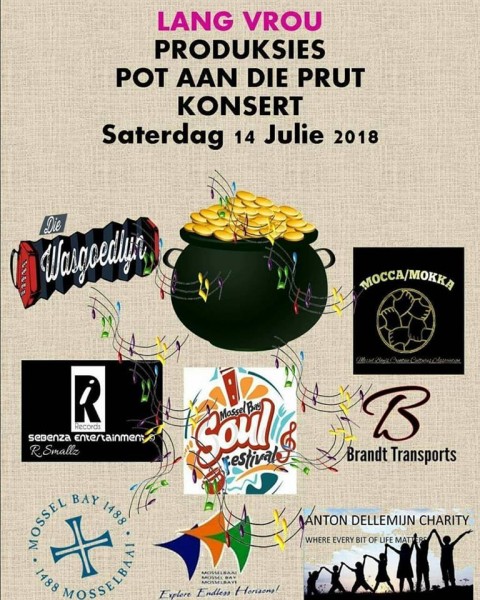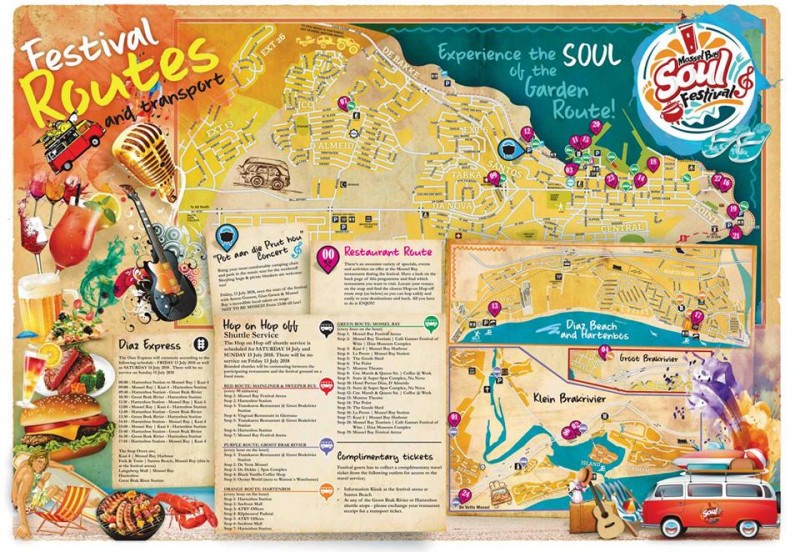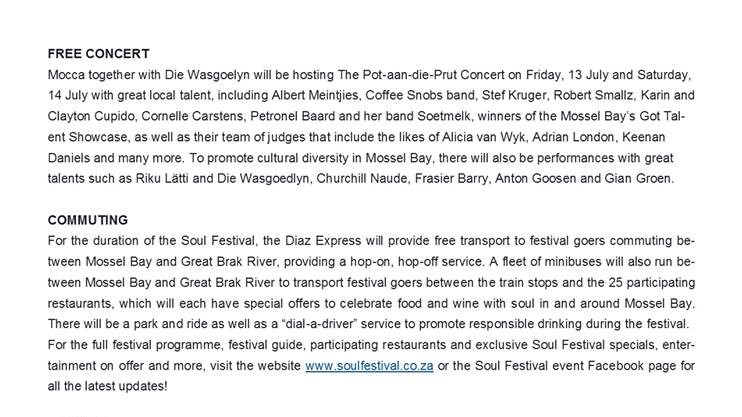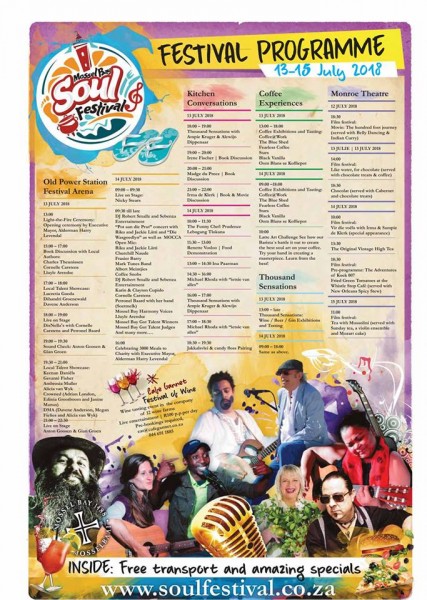 http://www.soulfestival.co.za/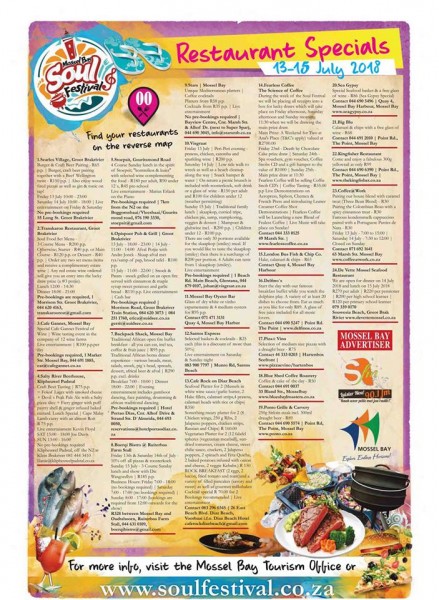 READ here everything about the SOUL FESTIVAL:


http://www.soulfestival.co.za/