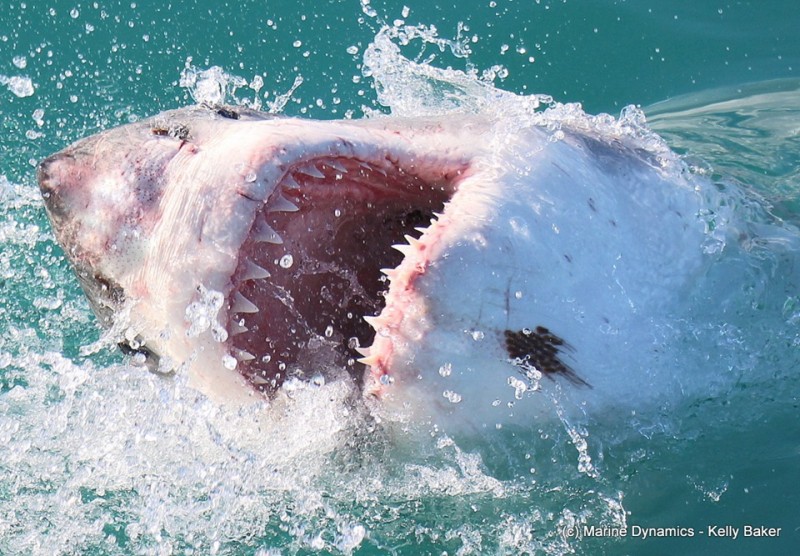 Shark Cage Diving's origin in South Africa - in majestic Mossel Bay - from a risky "rogue cowboy business" to a major tourist industry and global research initiative.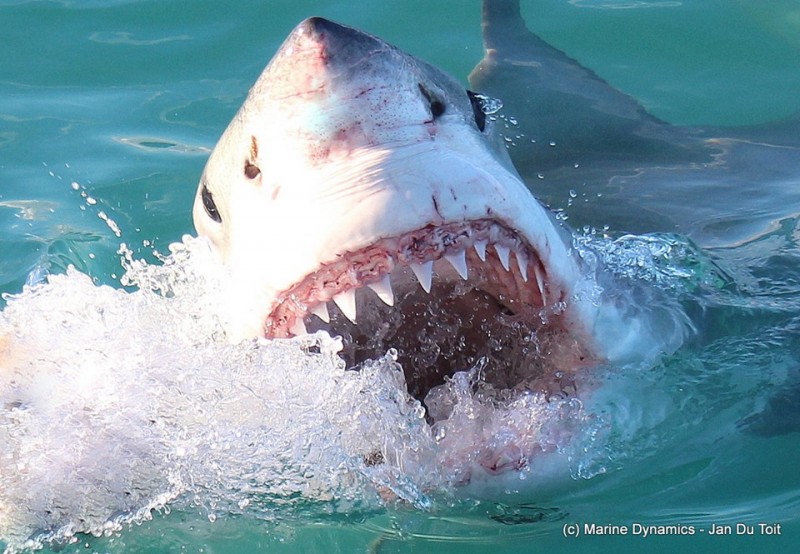 Beast of beauty? Man-eating monster or magnificent master of the marine jungle? They've been called MANY derogatory names through the ages - especially after the release of the blockbuster movie JAWS in 1975 - based on the best-seller thriller of Peter Benchley.
However, it took a few South African spearfishermen and their fear of, and fascination with these iconic hunters of the ocean to gradually help change the world's perception of one of the oldest original species on Planet Earth.
Ironically, it was the "crazy" idea of a Mossel Bay fisherman and diver, Jimmy Eksteen, in the late 1980's to share his close face to face encounters and underwater face-offs with these sleek and gracious marine hunters with the broader population, that spearheaded global research and a greater understanding of the Great White shark.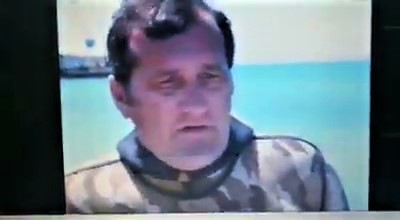 JAWS BECAME JAWSOME
Thanks to Mossel Bay's prolific marine life and abundance of Great Whites that feed on the seal population on the nearby Seal Island, Eksteen's diving excursions often brought him in close contact (and harrowing encounters) with these predators. He soon learned their behavioural patterns, and fear became fascination, respect, awe and a dream to share this invigorating experience with other adrenaline junkies.
The idea of shark cage diving was born
Eksteen recalls he had to use his own imagination and ideas to design a steel cage that could safely be submerged into the "unknown underwater world" to give a cage diver ample protection, yet maximum exposure to the Real McCoy. The original structure was a single detached cage in which a single diver was lowered into the water for a unique eyeball-to-eyeball face-off with the feared icons.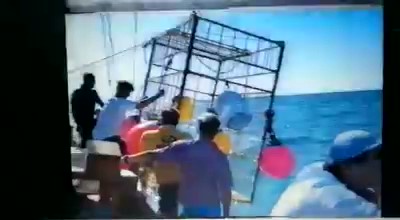 In those days there were no rules or regulations for such an extreme eco-adventure in South Africa, and in the beginning, it was pretty much a cowboy industry based on trial and error to smooth things out as you go along.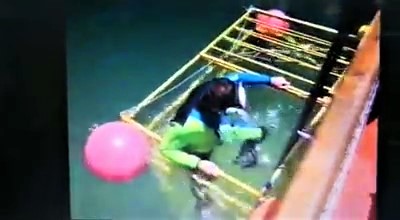 The public outcry was overwhelming - especially based on fear that the chum (oil and blood mixture to lure the Great Whites) would bring the sharks closer to the swimming areas. The authorities were engaged and new legislation and regulations had to be formulated regarding chumming and this new "water sport and tourist attraction".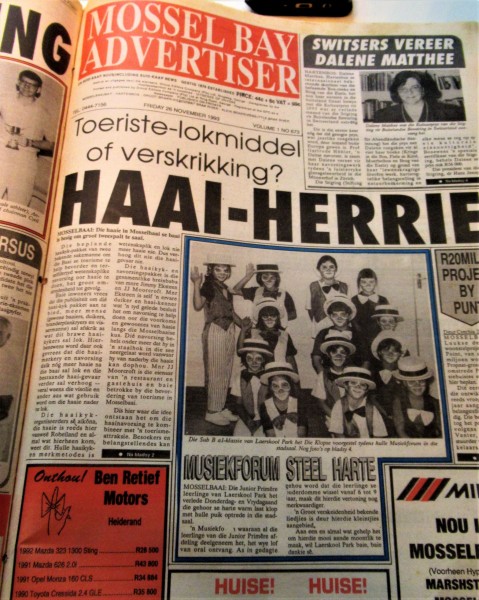 Ironically, during that time there were quite a few shark attacks along Mossel Bay's coastline - including a fatal attack on a female scuba diver near Hartenbos. All chumming was initially forbidden.
Around 2003 Jimmy and his restaurateur brother-in-law JJ Moorcroft started marketing their first official cage diving adventure packages - including meals and accommodation at Moorcroft's The Gannet restaurant and guest house.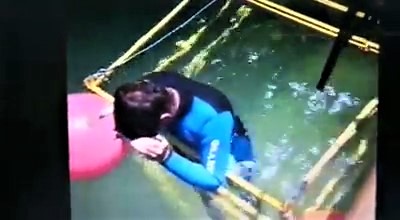 Meanwhile, another South African spearfisherman from Gansbaai, André Hartman (dubbed Shark Man), stunned the world with real-life footage of his free-swimming endeavours with mammoth Great Whites, and even riding them by holding onto their dorsal fin. His fearless encounters with the fearsome JAWS were published in National Geographic and aired on international TV stations.
Suddenly, South Africa was at the forefront of UN-demonizing the marine beast and taking the bite out of JAWS. The late author of Jaws, Peter Benchley, visited Hartman in Gansbaai to witness the "unbelievable" with his own eyes. After spending some time with Hartman on a small boat in a shark-infested ocean near Dyer Island, Benchley declared he would never have written Jaws if he knew then what he knows now . . . (The story and pictures of that encounter were also published in National Geographic.)
In Mossel Bay, Eksteen's shark cage diving excursions also drew the attention of the son of the late world-renowned French Navy officer, conservationist and scientist Jacques-Yves Cousteau. The latter designed and built the world's very first shark cage in 1956 for the production of the movie Silent World, and his son visited Eksteen to see his tourism-based cage and Mossel Bay's Great Whites.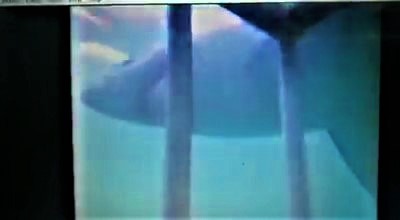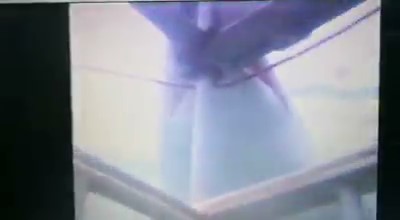 Today, there are several shark cage diving industries in the Western Cape - Mossel Bay, Gansbaai (9) and False Bay - and they all have marine biologists on board doing exemplary research work to better understand these endangered icons and to create global awareness of their essential role in marine ecology in order to save them from becoming extinct.
* Although South Africa continues to play a leading role in Great White shark research and conservation, cage diving originated in Australia. Rodney Winston Fox, a South Australian filmmaker, conservationists and survivor of a Great White attack, designed and built the first commercial shark cage in 1965 after he miraculously survived one of the most horrific non-fatal attacks. He is still one of the world's foremost authorities on the species.
From the archives: A TV documentary on the first shark cage diving excursions in South Africa featuring pioneer Jimmy Eksteen in Mossel Bay's waters around 1993.
Unfortunately, there's also a dark side and these iconic predators of the ocean have become almost extinct due to their worst "unnatural" enemy - the human. This year, not a single Great White was seen in False Bay - a first in recorded history. Last year, local fishermen made a gruesome discovery at Kanon beach along the Mossel Bay coastline when they encountered tens of decapitated shark heads on the beach. This is how we reported in June last year:
https://www.mosselbayontheline.co.za/index.php/woede-en-kommer-oor-langlynbote-wat-seelewe-aan-suid-kaapse-kuslyn-plunder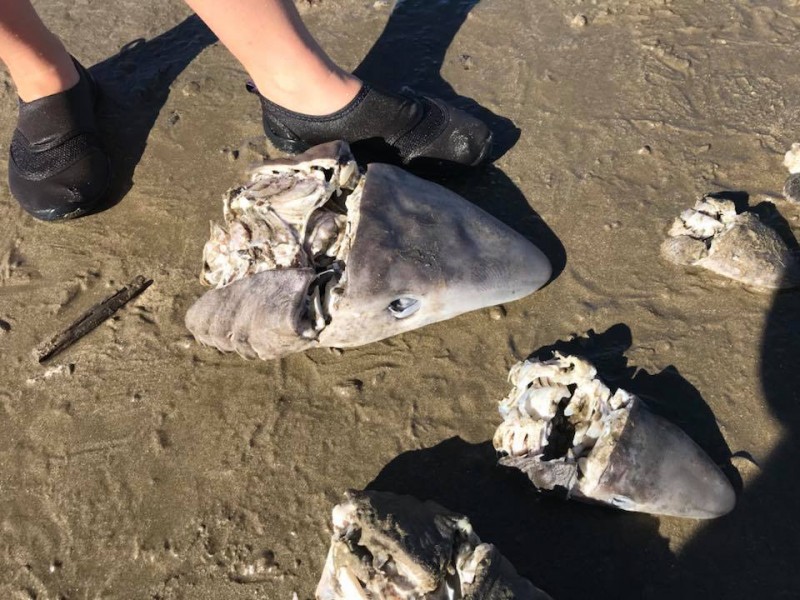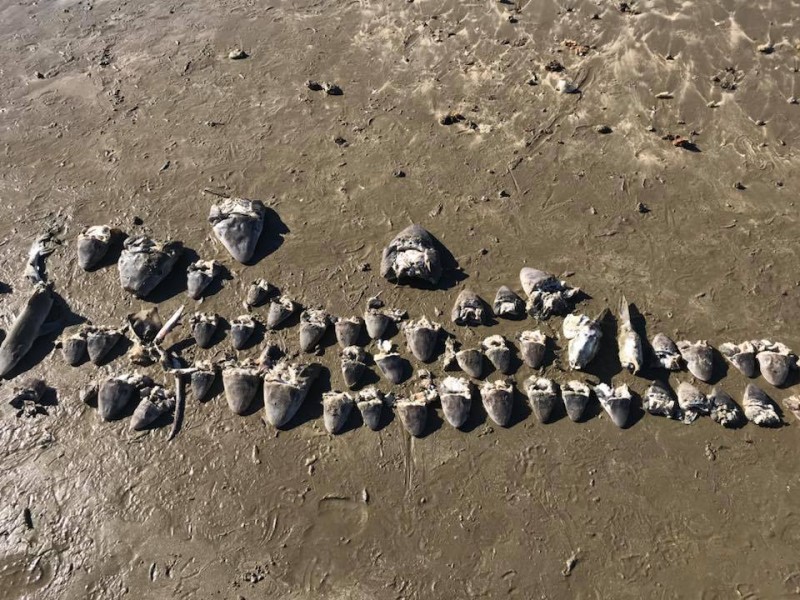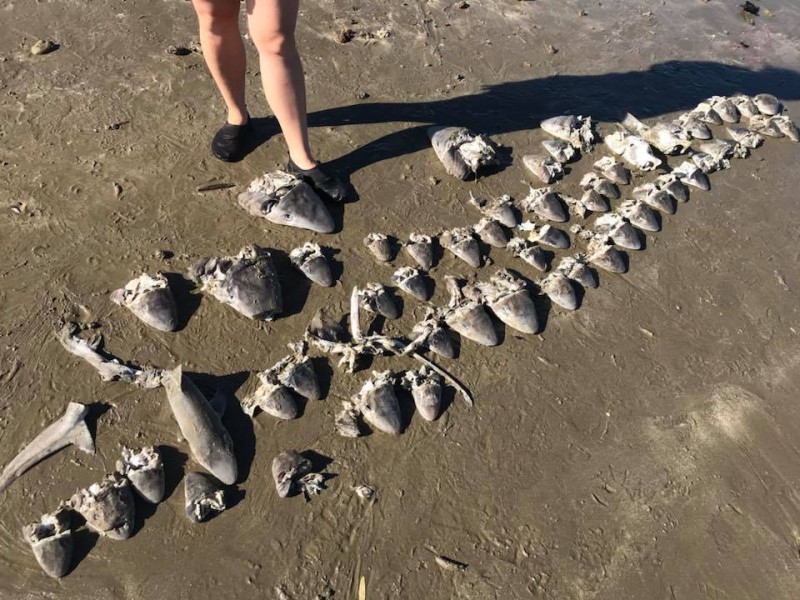 Also check/read our Facebook posts with more pictures in Afrikaans:
14 Augustus 2019:
Mosselbaai se withaaie lok toenemend internasionale filmspanne wat dokumentêre TV-programme oor dié gevreesde, dog manjifieke oerspesie langs die Wes-Kaapse kuslyn kom verfilm.
Ons het op 'n bewolkte dag in Julie 'n filmspan van die Discovery TV-kanaal by die ou seiljagklub (nou Mossel Bay Waterfront) raakgeloop waar hulle saam met die Gansbaaise marienebioloog Alison Towner insetsels vir hul TV-program verfilm het.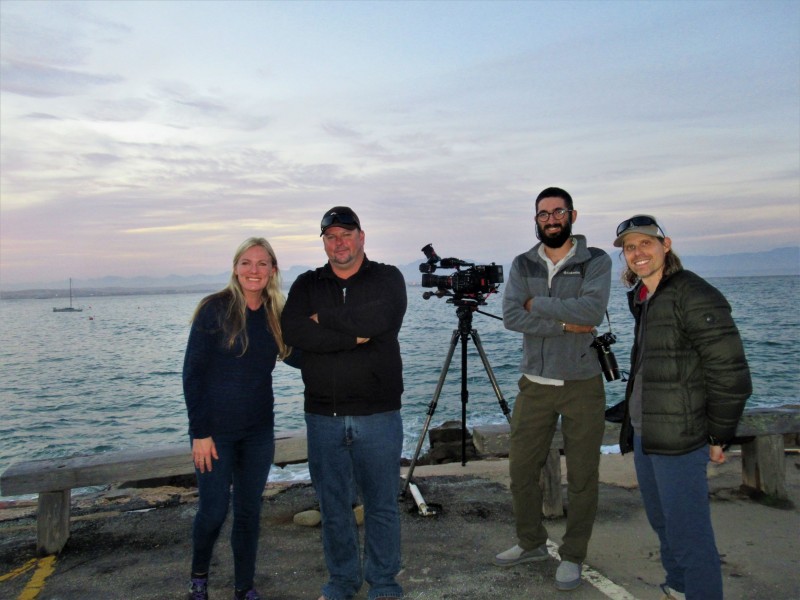 Ongelukkig sien Mosselbaaiers selde die ongelooflike eindproduk van dié internasionale filmspanne wat hier op eie bodem verfilm word. Die betrokke filmsessie langs die Suid-Kaapse kuslyn van Robeiland in Mosselbaai tot by Robberg in Plettenbergbaai was juis vir Discovery se gewilde Haaiweek-program Air Jaws Strikes Back wat op 30 Julie 2019 gebeeldsaai is.
Die filmspan het ook van hommeltuie gebruik gemaak om aksie-tonele van dié roof-marienediere oor 'n groter gebied te probeer vaslê. Op een video is 'n groot withaai wat 'n niksvermoedende rob aanval en verorber perfek vasgevang.
Mosselbaai het 'n lang geskiedenis met withaaie wat tradisioneel rondom Robeiland boer en was, sover bekend, die eerste dorp in Suid-Afrika waar haaihokduik in die laat 1980's amptelik bekend gestel is.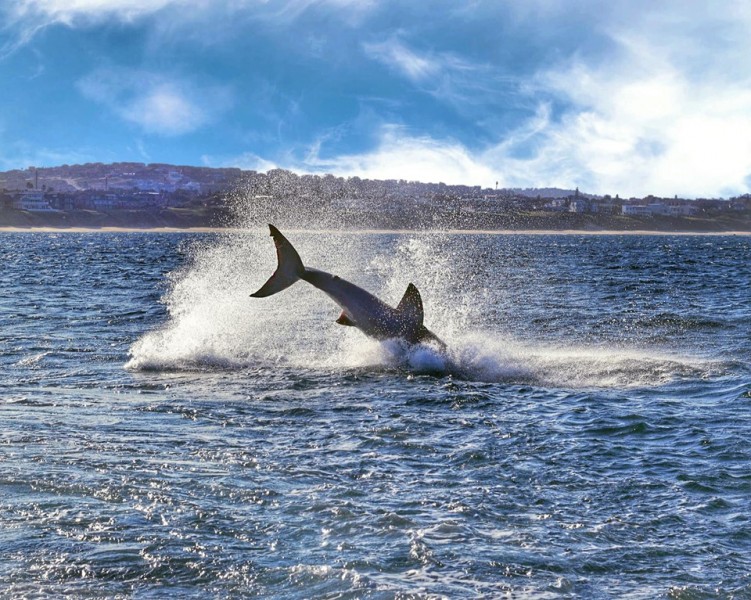 Hoewel dit destyds aanvanklik maar 'n redelike Cowboy-bedryf was met 'n primitiewe losdrywende hok wat Jimmy Eksteen op die been gebring het omdat daar nog nie spesifieke wetgewing en regulasies vir só 'n adrenalien-avontuur was nie, het dié bedryf sedertdien in Suid-Afrika ontplof tot een van die top-toeriste-attraksies.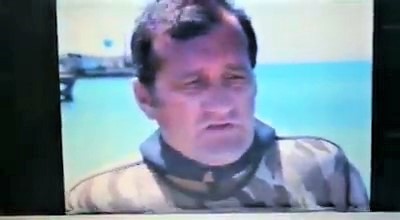 Eksteen vertel hy het destyds maar sy eie kop gevolg met die ontwerp en mates van die haaihok en danksy raad, bystand en hulp van Theo Ferreira en sy seun, Craig, het Mosselbaai die eerste haaihokduike in die land begin.
Selfs die seun van die beroemde Franse vloot-offisier en wetenskaplike Jacques-Yves Cousteau, wat destyds in 1956 die eerste haaihok ontwerp het vir die verfilming van die rolprent Silent World, het saam met Eksteen na Mosselbaai se haaie kom kyk . . .
Haaihokduik het onregstreeks ook gelei tot intensiewe navorsing oor dié spesie wat in 1974 wêreldwye vrees ingeboesem het met die vrystelling van wyle Peter Benchley se rillerboek JAWS. Die Amerikaanse skrywer se boek was 'n blitsverkoper en sowat 20 miljoen eksemplare is destyds verkoop. Toe Steven Spielberg boonop in 1975 die boek verfilm vir die treffer-rolprent JAWS, was die Witdoodshaai jare lank seker dié mees gevreesde seedier wat mense nagmerries gegee en uit die see gehou het.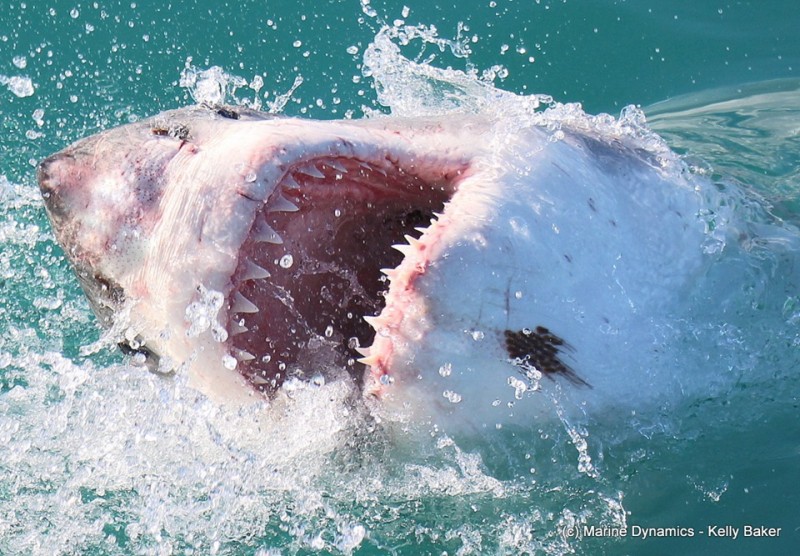 * Interessant genoeg was dit juis 'n Suid-Afrikaner wat Peter Benchley jare later skuldig laat voel het oor die "onregverdige stigma" wat sy boek aan dié vaartbelynde en sierlike seejagter laat kleef het. Tydens 'n besoek aan Gansbaai in die vroeë 1990's het die wêreldbekende "Haaiman" André Hartman aan Benchley gewys hoe hy vreesloos saam met withaaie swem en selfs op hul rug ry deur aan hul dorsale vin vas te hou . . .
Dit het wyle Benchley laat sê dat hy nooit die boek sou geskryf het as hy destyds geweet het wat hy nou weet nie.
Deesdae is Suid-Afrikaners in die voorste linie van wêreldkenners en navorsers oor die kenmerke, getalle, gewoontes en gedragspatrone van dié gevreesde, dog gerespekteerde koning van die mariene-oerwoud en leef ook Mosselbaai se seeliefhebbers in vrede en harmonie saam met dié diere wat so 'n belangrike rol in die balans van die marienelewe speel.
Hier is die hommeltuig-video wat die Discovery-span van die haai-aanval op die rob langs die Suid-Kaapse kuslyn verfilm het.
https://youtu.be/XtSAnt2HnhU
https://web.facebook.com/mosselbayontheline/posts/2466083433622909?
31 Augustus 2019:
As dit nie die haaie in Mosselbaai se waters is wat ná dekades steeds sensasie veroorsaak nie, is dit 'n onopgeëisde Power Ball-wenkaartjie van R141 miljoen wat die dorp aan die gons het.
Amanda Brewer, 'n Amerikaanse natuurlewe-fotograaf en stigter van die internasionale haaibewaringsprojek Sharkservation, se foto's van Mosselbaai se withaaie wat sy onlangs vir dokumentêre TV-programme soos Air Jaws Strikes Again hier kom neem het, is só vreesaanjaend dat gemanipuleerde poetsbak-foto's eintlik mak vertoon vergeleke met die ware jakob.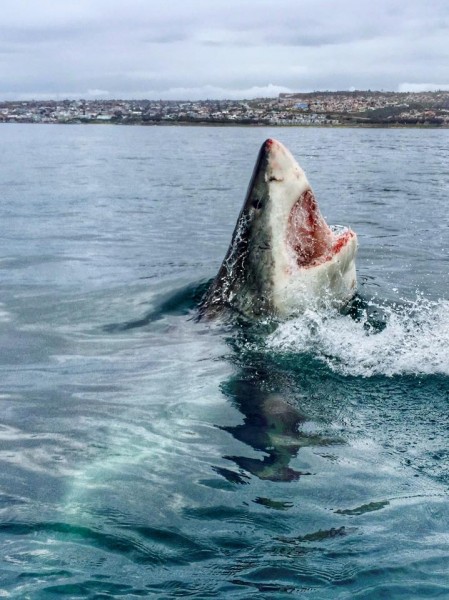 Dit volg nadat selfs haaikenner Craig Ferreira uitgevang is deur Jaco Vollgraaff se poets toe hy sy vriende se diepsee-hengelekspedisie met 'n hommeltuig verfilm het en sommer vir die pret 'n foto van 'n reuse-haai ingelas het sodat dit lyk of die haai die boot agtervolg. Die eindresultaat van dié foto-manipulasie was só lewensgetrou dat selfs Ferreira dit as die ware jakob op Facebook gedeel het en 'n herrie op sosiale media veroorsaak het.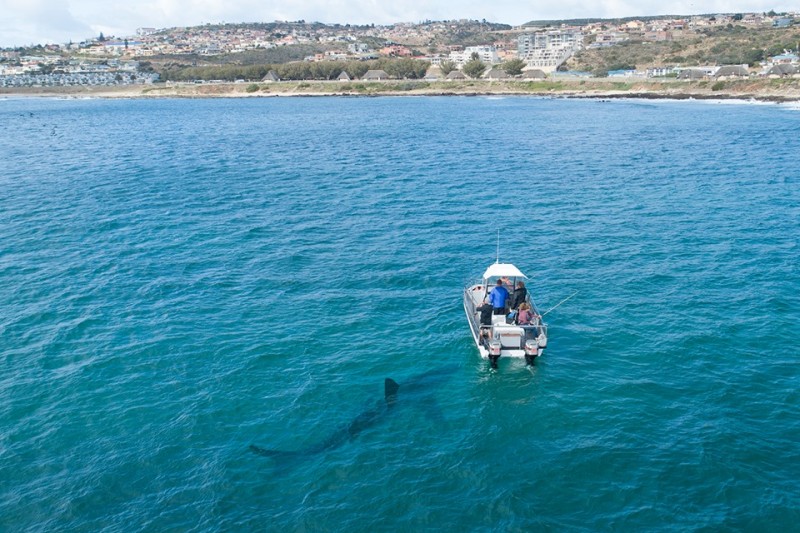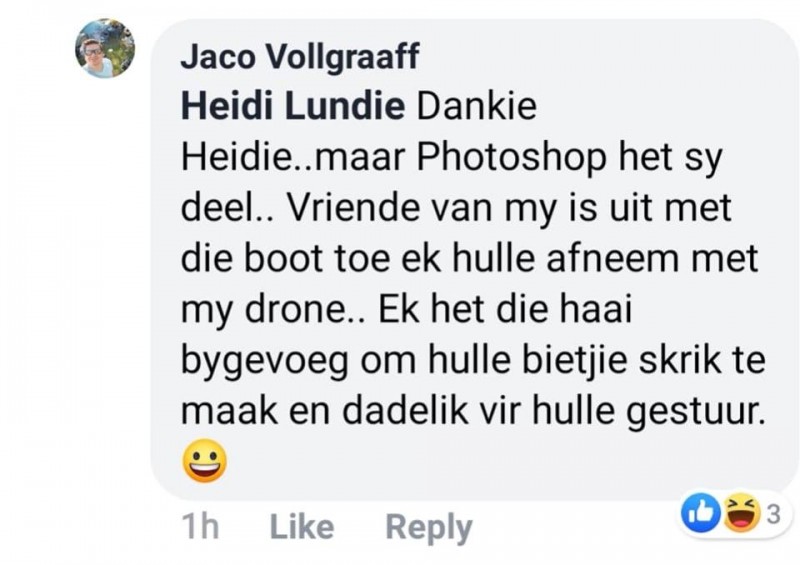 Dié herrie rondom haaie het ons 'n ou koerant van November 1993 uit die Mossel Bay Advertiser se argiewe laat opdiep waarin die voornemende haaikyk-pakkette van twee bekende plaaslike sakemanne Jimmy Eksteen en JJ Moorcroft destyds al 'n soortgelyke haai-herrie veroorsaak het.
;-)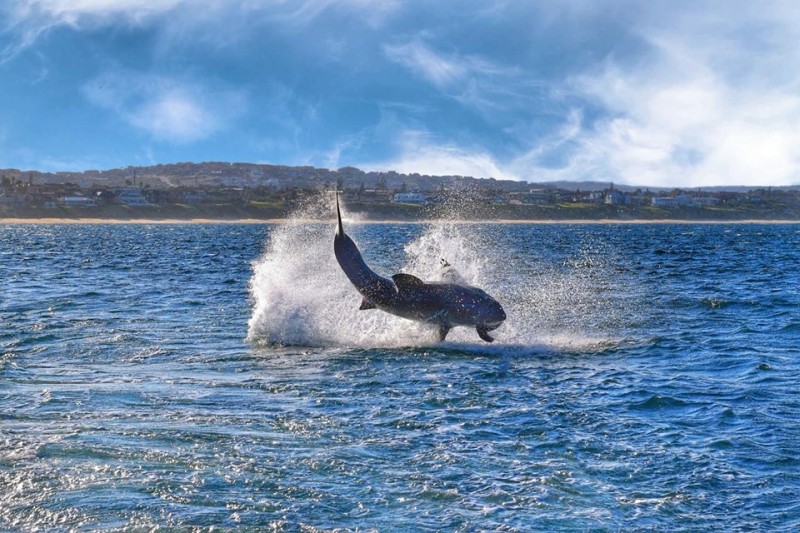 Die publiek was destyds nie soseer gekant teen die toerisme-voordele van dié plan nie, maar bekommerd oor die tipe lokaas (chum) wat gebruik sou word en dat die bloederige visolie-mengsel meer haaie na die swemgebiede sou lok. In die onderhoud wat die uwe destyds self met Eksteen en Moorcroft gevoer het, het hulle egter die versekering gegee dat hul haaihok-pakket streng volgens erkende wetenskaplike riglyne bedryf sal word.
Ironies genoeg was daar destyds in dié tyd 'n hele paar haai-aanvalle langs die Mosselbaaise kuslyn - waaronder 'n noodlottige aanval by Hartenbos - en is die gebruik van lokaas (chumming) aanvanklik heeltemal verbied.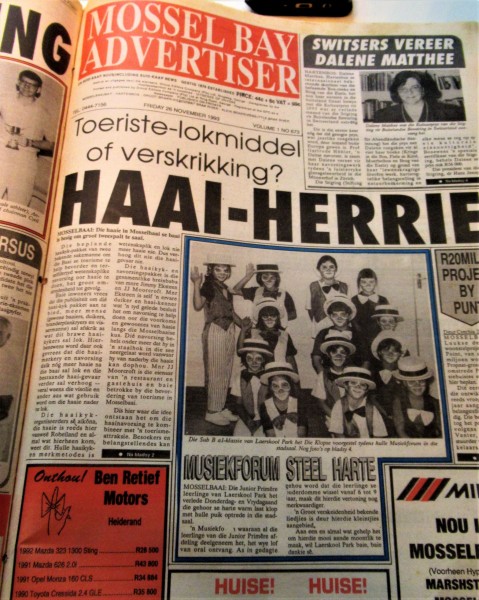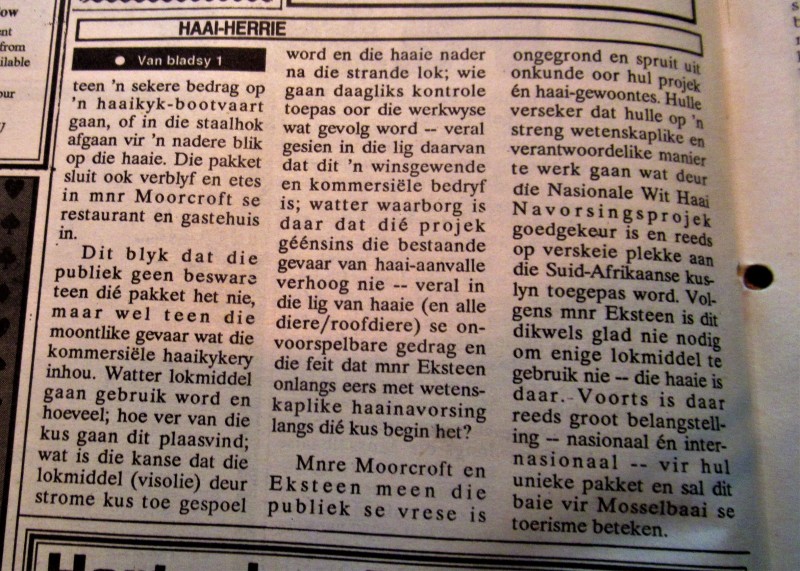 Ons het in 'n vorige plasing genoem dat Jimmy Eksteen, 'n ervare duiker, destyds die eerste haaihokduike in Suid-Afrika uitgevoer het met 'n staalhok wat hy self ontwerp en laat bou het. Sedertdien het die bedryf baie meer gesofistikeerd en wetenskaplik geraak en gegroei tot 'n winsgewende toeriste-aantreklikheid in Mosselbaai, Gansbaai en Valsbaai.
Intusssen is daar groot kommer oor die skerp afname in grootwithaaie in Valsbaai waar die afgelope jaar nog nie een gewaar is nie teenoor 'n gemiddeld van 205 per jaar in vorige jare. Verlede jaar is slegs 50 grootwithaaie gedurende die lente en somer in Valsbaai opgemerk.
Sover bekend is dit die eerste keer nóg dat geen withaaie in die area opgemerk word nie en sukkel haaihokoperateurs om hul besighede aan die gang te hou.
Dié kommerwekkende afname kan verskeie oorsake hê - van moordwalvisse (Orcas) wat toenemend in Valsbaai boer en die haaie uitroei en kommersiële vissersbote wat die haaie teiken vir die Oosterse haaivinsopmark, tot ekologiese veranderinge, 'n voedseltekort of selfs erge seewaterbesoedeling.
'n Skokkende verslag oor hoe erg die Kaapse kuswater reeds besoedel is weens chemiese en rioolafval wat daarin beland, het onlangs verskyn. Volgens 'n berig in The Citizen is die see rondom Kaapstad so erg besoedel dat die vis vol farmaseutiese en nywerheidschemikalieë soos antibiotika, ontsmettingsmiddels en selfs antiretrovirale medikasie is.
Dit laat ook die gevaarligte vir Mosselbaai flikker waar grootskaalse hawe-ontwikkelings, nywerhede en olie/gas-ontginnings alles saam in die kleinste werkende hawe in die land beplan word.
Grootwithaaie speel 'n kardinale rol in die mariene-ekologie en hul teenwoordigheid dui juis op 'n gesonde eko-stelsel. Sal Mosselbaai se haaie en gesonde marienelewe hoegenaamd sulke ingrypende nywerheidsontwikkelings kan oorleef?
Intussen is die sperdatum vir kommentaar oor die beplande vergroting en uitbreiding van die Mosselbaai-hawe verleng tot einde Oktober 2019. Die aanvanklike sperdatum vir kommentaar was 31 Augustus, wat die publiek 'n skrale paar dae kans sou gee om insette te lewer sonder dat hulle hoegenaamd ingelig is oor die impak wat die verdieping/vergroting van die hawe moontlik op die ekologie, seestrome en kusbuurtes soos Hartenbos, Dias en Bayview kan hê, ens.
Lees meer hier: https://maroelamedia.co.za/…/grootwithaaie-verdwyn-uit-val…/
https://citizen.co.za/…/cape-towns-waste-is-ending-up-in-i…/
https://www.mosselbayadvertiser.com/…/comment-on-port-plans…?
Ons plaas soos gebruiklik ook meer nuus onder die foto-onderskrifte.
Kyk/lees meer hier:
https://web.facebook.com/mosselbayontheline/posts/2477937225770863?
Related Articles: