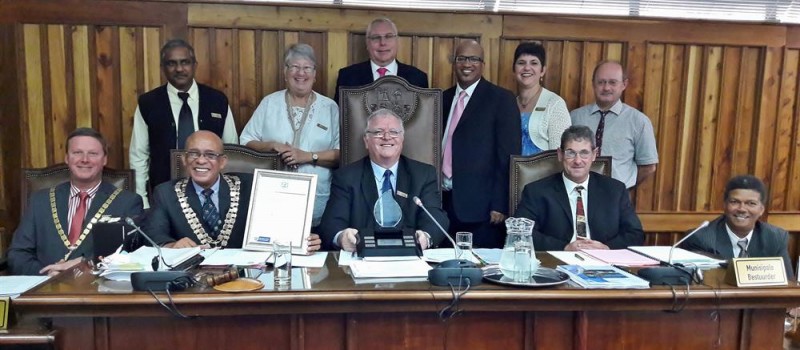 Die permanente skorsing van Mosselbaai se mees omstrede munispale bestuurder Thys Giliomee ná klagte van seksuele wangedrag wat intern ondersoek is, het uiteenlopende reaksies ontlok.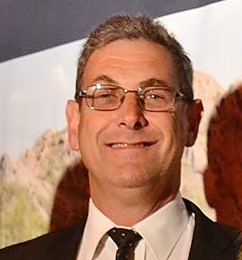 Aan die eenkant is daar dié wat sedert sy onkonvensionele en omstrede "politieke aanstelling" einde 2016 sy ervaring en werksetiek bevraagteken het. Die feit dat hy as voormalige hoof-uitvoerende beampte van die Wes-Kaapse Drankraad boonop geïmpliseer is in 'n voortslepende forensiese ondersoek weens beweerde wanbesteding van R9 miljoen vir kantoormeubilering, het ook die wenkbroue laat lig.
Aan die anderkant is daar diegene wat reken hy het Mosselbaai goed bestuur en sal gemis word.
Seksklagte intern ondersoek
Giliomee se skorsing volg ná klagte van seksuele teistering wat in Mei vanjaar na bewering deur een of meer vroue teen hom aanhangig gemaak is. Die besonderhede van die klagte en klaagsters is deurgaans streng vertroulik gehou en intern ondersoek.
Die Munisipaliteit het gister net in 'n kort Engelse mediaverklaring aangekondig dat Giliomee ná indringende samesprekinge die voorwaardes vir sy onmiddellike afdanking aanvaar. Die besonderhede van dié voorwaardes en die skikkingsbedrag met die klaagsters is ook nie bekend gemaak nie.
Giliomee is op 1 Desember 2016 onder 'n wolk van omstredenheid aangestel nadat die normale prosedures glo nie gevolg is en alle raadslede nie in die saak geken is nie. Die grootste besware nadat hy destyds dr. Michelle Gratz opgevolg het ná haar skok-bedanking, is dat dit 'n geforseerde "politieke"aanstelling was en dat hy nie die vereiste 5 jaar ervaring as munisipale bestuurder het nie.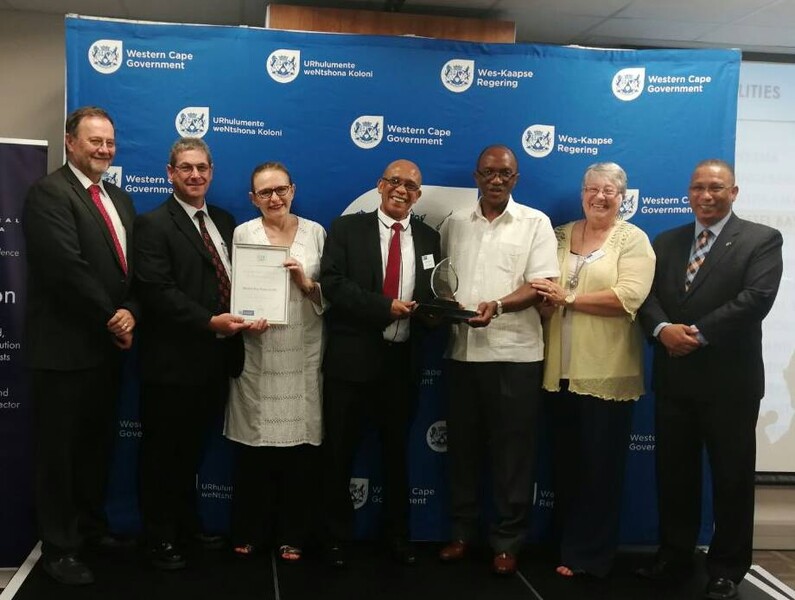 Goeie tye in hoë kringe: Mosselbaai Munisipaliteit se sesde skoon oudit vir die 2016/17 finansiële boekjaar is in 2018 luisterryk gevier. Die Ouditeur-generaal Kimi Makwetu (derde van regs) en die destydse Wes-Kaapse premier Helen Zille het die Mosselbaaise afvaardiging persoonlik geluk gewens en geloof vir die groot prestasie om in die "moeilike" 2016/17 finansiële boekjaar wéér 'n skoon oudit-verslag te verwerf. Mosselbaai se burgemeester, Harry Levendal, asook die nuwe munisipale bestuurder, Thys Giliomee, (onderskeidelik regs en links van Zille), het trots die trofee en 'n goue sertifikaat vir uitnemendheid tydens die seremonie in ontvangs geneem. Heel links is Anton Bredell, Wes-Kaapse DA minister van plaaslike regering, omgewingsake en ontwikkelingsbeplanning sedert 2009. Dié skoon oudit-tradisie het egter in die volgende twee jaar skipbreuk gely.
Giliomee se kontrak sou op 30 November vanjaar verstryk het.
Volgens die uitvoerende burgemeester, Harry Lewendal, was die skikking 'n logiese besluit en die beste oplossing onder die omstandighede.
Hy het gesê Giliomee laat 'n stabiele administrasie met 'n uitsonderlike hoë standaard van munisipale dienslewering agter en dat die munisipaliteit sal voortgaan om dié gehalte-dienslewering en toewyding aan inwoners te handhaaf. Hy en die uitvoerende bestuurspan wens hom alle sukses toe in sy toekomstige wedervaringe.
Giliomee het op sy beurt Mosselbaai se raadslede en amptenare geprys as die beste wat enige munisipaliteit kan hoop om te hê. Hy het gesê die onderskeie afdelings wat as 'n eenheid funksioneer, verseker die hoë gehalte munisipale dienslewering waarvoor Mosselbaai Munisipaliteit so dikwels geloof word.
Giliomee se voorganger, Dr.Michele Gratz, het destyds eweneens skokgolwe deur die gemeenskap gestuur
toe sy 'n jaar voor die verstryking van haar tweede termyn bedank het weens "onhoudbare politieke inmenging".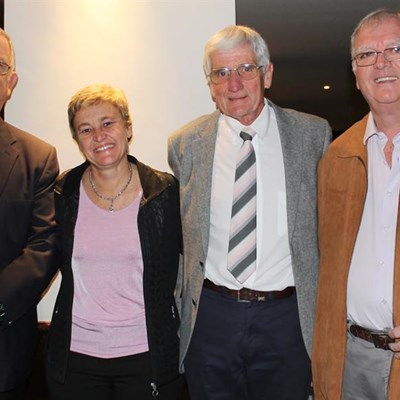 Gratz, onder wie se tien jaar leierskap Mosselbaai tot ongekende hoogtes in die Wes-Kaap en nasionaal gevoer is, het reeds vroeg in 2016 gewaarsku teen politieke inmenging en die wyse waarop DA-kandidate gekies en aangewys word sonder inagneming van hul ervaring en bevoegdheid. Gratz, 'n gekwalifiseerde mediese dokter, het reeds in Mei 2016 haar voorneme om te bedank bekend gemaak - 'n jaar voordat haar (tweede) termyn amptelik in Mei 2017 sou verstryk. Sy het amptelik uit diens getree op 3 Augustus 2016 om saam te val met die munisipale verkiesing sodat die raad "genoegsame tyd sou hê om die beste en mees geskikte en ervare opvolger te soek."
Gratz het hoë aansien in Wes-Kaapse munisipale kringe geniet en onder haar leiding het die Mosselbaai munisipaliteit verskeie "eerstes" bereik en talle provinsiale en nasionale eerbewyse ontvang - waaronder vyf agtereenvolgende skoon oudits, Groen Dorp-toekenning en die feeste soos die Dias-fees wat steeds 'n hoogtepunt op die dorp se toerismekalender is.
Ironies genoeg is die aanstelling van Gratz se opvolger toe JUIS gekritseer as 'n eensydige politieke aanstelling wat nie op meriete en ervaring gegrond was nie. Opposisiepartye in die raad het laat blyk dat hulle nie geken is in sy keuring en aanstelling nie en ook nie noodwendig daarmee saamstem nie.
ANC-raadslid Jovan Bruinders het gesê Giliomee is deur die DA herontontplooi en nie deur die volle raad aangestel nie. Weens Giliomee se gebrekkige ervaring as munisipale bestuurder sou 'n mentor glo aangestel word om hom aanvanklik by te staan, maar dit het nooit gerealiseer nie.
ICOSA-raadslid Dawid Kamfer het destyds selfs sover gegaan om in sy hoedanigheid as provinsiale ICOSA-leier 'n amptelike klag teen Giliomee se aanstelling by die Minister van Samewerkende Regering en Tradisionele Sake, mnr Des van Rooyen, asook die Openbare Beskermer op George aanhangig te maak.
Outokratiese en ondeursigtige bestuurstyl
* Van die grootste besware teen Giliomee was sy ondeursigtige bestuurstyl om nie op inwoners se vrae en klagtes oor omstrede kwessies te reageer nie en sy nie-amptelike goedkeuring van omstrede ontwikkelingsplanne met uiters nadelige omgewingsimpak wat inwoners dan self tot in hofsake moet gaan beveg.
Voorbeelde hiervan was 'n erg omstrede diepsee-akwamariene-visboerdery met geelstert wat hy kort ná sy aanstelling aangevoor het; 'n erg omstrede vismeel- en olieverwerkingsaanleg op die hawe deur Afro Fishing en tans 'n ewe omstrede fabriek om motorbande en plastiek te herwin (depolymerisasie-aanleg) deur Rooikat Recycling (Pty) Ltd. in Groot-Brakrivier.
Inwoners meen as eerste vlak van owerheid het die munisipaliteit 'n verantwoordelikheid en plig teenoor inwoners en belastingbetalers om hulle belange op die hart te dra en hulle te help beskerm teen ontwikkelings wat nie net die omgewing skaad nie, maar ook hul gesondheid en lewensgehalte bedreig. Deur sulke aansoeke goed te keur en net te sê die finale besluit "berus nie" by die munisipaliteit nie, is om dié indirekte plig te versuim.
Slagoffers van die Seemeeupark-grondverskuiwingsramp in 2016 en Riverside-inwoners het jare lank vergeefs gepoog om antwoorde van munisipale kant te kry oor hul reuse-verliese en selfs koerantverslaggewers se skriftelike vrae is bloot gesystap of geïgnoreer.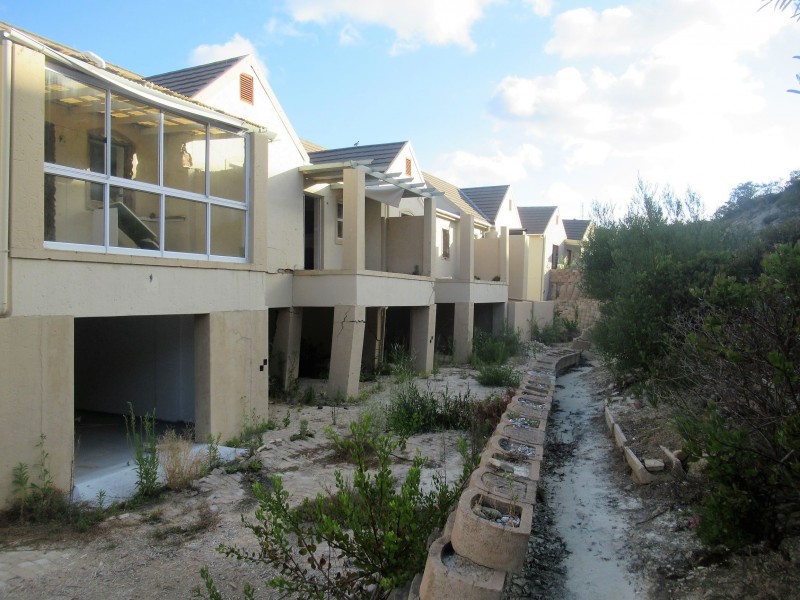 Hangende hofsake van dermiljoene rande waarin die munisipaliteit aanspreeklik gehou is, is onder sy bestuur bloot onder die tafel ingevee terwyl daar deurgaans gefokus is op oppervlakkige beeldpoetsery.
MEDIA RELEASE: MOSSEL BAY MUNICIPALITY
After extensive negotiations, Mossel Bay Municipality and its Municipal Manager, Adv. Thys Giliomee agreed on the terms to terminate his employment contract on 13 July 2021. This follows the suspension and an investigation into alleged misconduct by the Municipal Manager.
Adv. Giliomee joined Mossel Bay Municipality as Municipal Manager on 1 December 2016, and his contract was due to expire on 30 November 2021.
The Executive Mayor, Alderman Harry Levendal, stated that the settlement was the logical and best solution in the circumstances.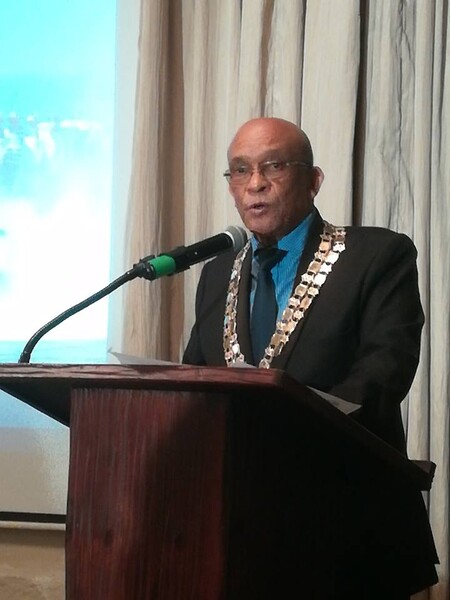 Adv Giliomee leaves a stable administration with exceptionally high standards of municipal service delivery. Mossel Bay Municipality will maintain these high standards and commitment to service delivery excellence to its residents.
The Executive Mayor, the Councillors, and the executive management team of the Mossel Bay Municipality wish Adv Giliomee well in his future endeavours.
Adv. Giliomee reiterated that Mossel Bay Municipality has the best Councillors and officials that any municipality may hope for. The functional municipal unit ensures the high standards of municipal service delivery that ensure that accolades are frequently bestowed on Mossel Bay Municipality.
Alderman Harry Levendal
Executive Mayor
Mossel Bay Municipality
Related Articles: