TWENTY years after the US National Institute of Justice warned how electronic technology will take over all aspects of crime and murder, and long before the heavily contested and militarized 5G/AI technology was overnight unleashed upon an unsuspecting society, those predictions have come home to roost.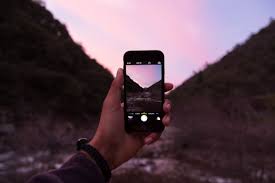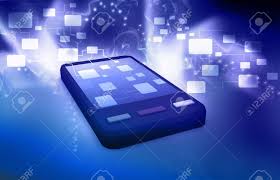 Cellphone technology, which allows people access to anyone's personal cellphone data and locations, seems to be at the root of the spree of high-profile murders in South Africa in the past few months.
The investigation into the assassination of Western Cape top cop, lt.colonel Charl Kinnear in September 2020 unearthed a snake pit of racketeering, bribery, betrayal and assassinations in which high ranking officials, dirty cops, gangsters and even Bosnian hitmen were allegedly involved using cellphone apps and technology. Cellphone companies such as Vodacom and MTN are now part of the investigation regarding confidentiality breaches.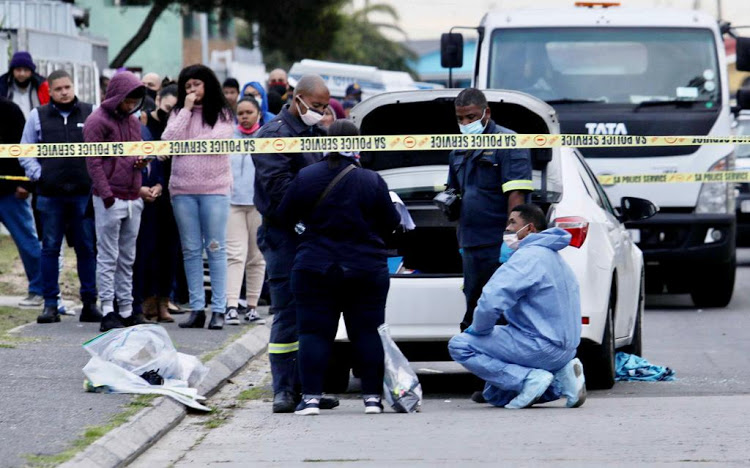 It appears that the cellphones of most of the recent high profile murder victims in Cape Town had been traced for months via a professional syndicate with wide-spread tentacles and connections in the Western Cape underworld.
Even the cellphone of the murdered anaesthetist, Dr Abdulhay Munshi, was allegedly pinged 635 times by the Edenvale ex-cop Bradley Goldblatt, from whom Zane Kilian apparently bought the "ping app and login code" for his one-man debt collection and vehicle repossession business in Springs. Goldblatt allegedly controlled and managed a platform from which an unknown number of people could ping and monitor any number of individuals' cellphone locations.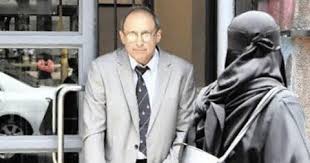 Dr Abdulhay Munshi was shot to death on Wednesday night 16 September in a vigilante killing in Johannesburg.
Kilian has been in custody since 21 September 2020 and has thus far solely taken the full wrap for Kinnear's assassination, although he denied having any knowledge of Kinnear's murder or the individual(s) behind it. The identity of a Mr Mohammed, who allegedly recruited Kilian to trace the whereabouts of his "unfaithful wife", is still unknown although all the numbers Mohammed used to contact Kilian are in the SAPS's possession. Kilian's repeated requests for a polygraph or any lie detector test have also been denied.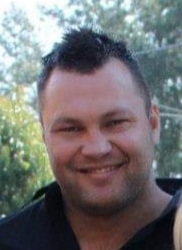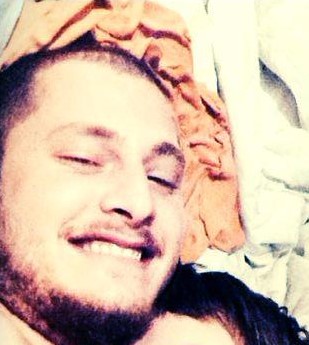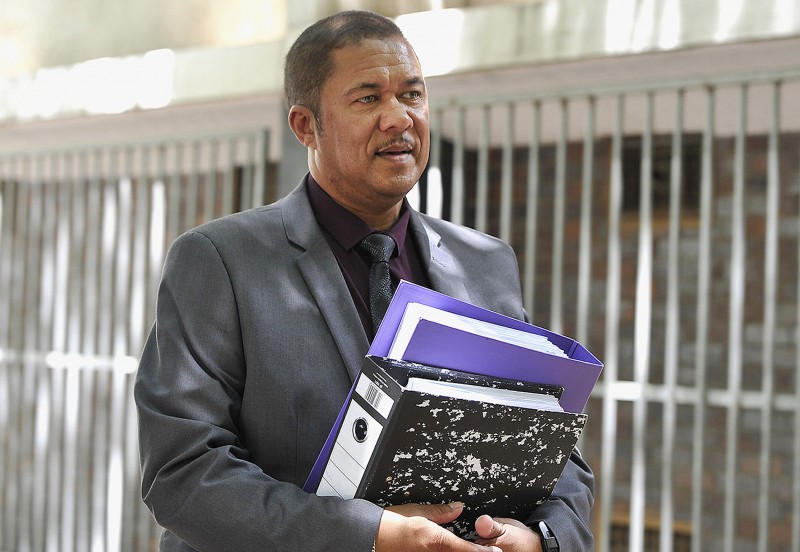 Accused Zane Kilian (left) and ex-cop Bradley Goldblatt from whom Kilian bought his "ping kit" . . .
Meanwhile, it has been confirmed that Kinnear's phone and those of the other high-profile murder victims were pinged by various people who also used Goldblatt's platform.
Read the rest - it sounds/reads like an old-time Cowboys & Crooks era turned scary robotic hi-tech . . .
https://www.dailymaverick.co.za/article/2020-10-04-charl-kinnear-killing-there-is-a-war-where-we-are-going-to-get-bodies-warns-cele/
https://www.dailymaverick.co.za/article/2020-10-04-charl-kinnear-killing-there-is-a-war-where-we-are-going-to-get-bodies-warns-cele/
Twenty years after this official report on the dangers of electronic crime was published, the predictions came home to roost with the unprecedented global implementation of weaponized 5G/AI technology that controls all virtual reality and communication (media) while the world is/was simultaneously hiding from a unique flu virus propagandized by the same powers that own/control 5G/AI ?
Electronic Crime Scene Investigation - 2000
The Internet, computer networks, and automated data systems present an enormous new opportunity for committing criminal activity. Computers and other electronic devices are being used increasingly to commit, enable, or support crimes perpetrated against persons, organizations, or property.
Whether the crime involves attacks against computer systems, the information they contain, or more traditional crimes such as murder, money laundering, trafficking, or fraud, electronic evidence increasingly is involved.
It is no surprise that law enforcement and criminal justice officials are being overwhelmed by the volume of investigations and prosecutions that involve electronic evidence.
https://www.ncjrs.gov/pdffiles1/nij/187736.pdf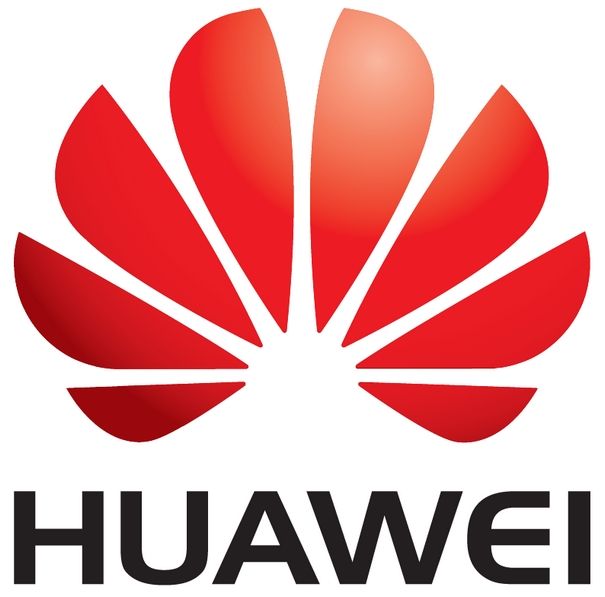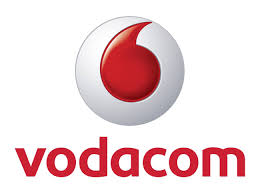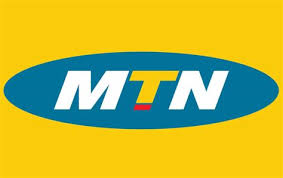 Thanks to modern technology, the footage of slain cop Charl Kinnear's assassination was captured on footage from various cameras, but the actual killer was NEVER mentioned again . . . ?
https://www.news24.com/news24/southafrica/news/pics-murder-of-top-cop-charl-kinnear-captured-on-cctv-20200929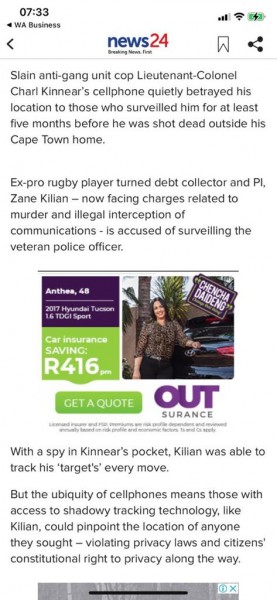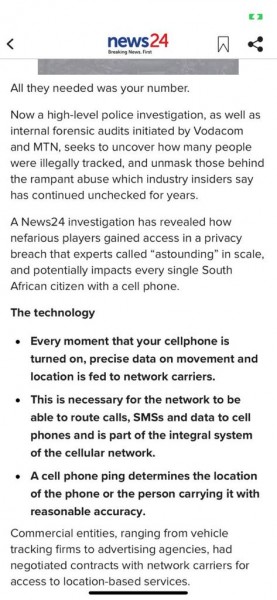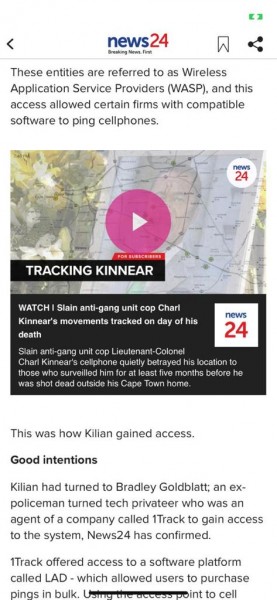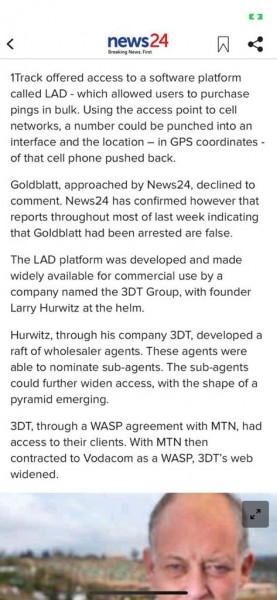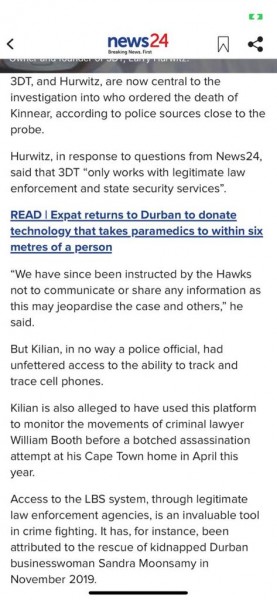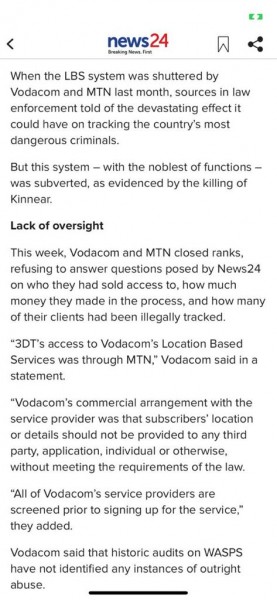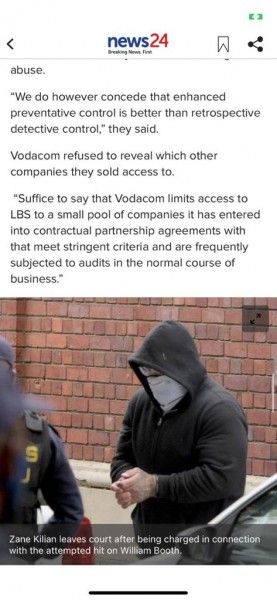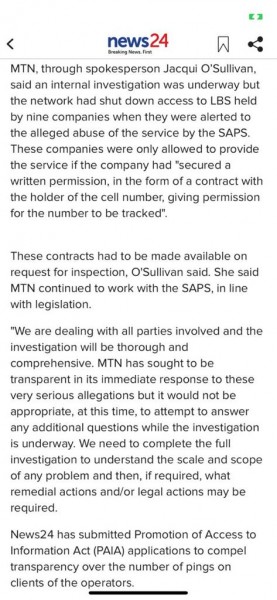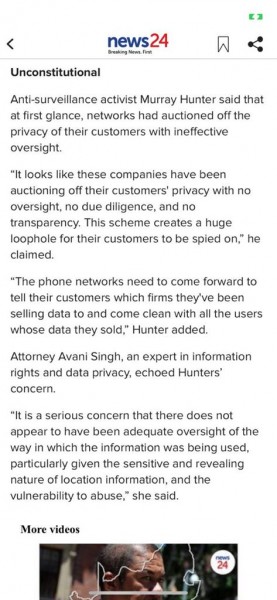 The man charged with the murder of top Cape Town cop Charl Kinnear used an app, controlled by an ex-policeman, to ping the slain Lieutenant Colonel's location, Daily Maverick reported on Tuesday.
According to the publication, its investigation found that Zane Killian was one of several people, including corrupt officers, who used the former Gauteng police officer's platform to intercept the phones of prominent individuals, like Kinnear and Cape Town attorney William Booth.
It was reportedly established that murdered anaesthetist, Dr Abdulhay Munshi, was pinged 635 times by the former officer, who failed to respond to the publication's request for comment. Munshi had been allegedly shot dead in September. He and paediatric surgeon Professor Peter Beale were charged with culpable homicide last year after the death of a 10-year-old boy following an operation, in which Munshi assisted.
According to Daily Maverick, the ex-policeman was questioned last week and police checked his laptop, cellphone, and bank details to determine who else he pinged. He has not yet been charged.
Kinnear was shot dead outside his house in Bishop Lavis, Cape Town, on 18 September, News24 previously reported.
Kilian, who said he was a registered private investigator, was arrested in Gauteng. He has been charged with murder, fraud, and violations of telecommunications and electronic communications laws in the Kinnear case.
News24 previously reported that Kinnear's phone was alleged to have been pinged more than 2 000 times through the use of location-based services.
Following an analysis of a "ping list" of people whose numbers had allegedly been tracked and monitored, Kilian was added to the case in which five people have already been arrested for the attempted murder of Booth.
Shots were allegedly fired at Booth's house in Cape Town on 9 April. He was not injured.
Kilian is now the sixth accused, along with Kauthar Brown, Ebrahim Deare, Riyaad Gesant, Kim Smith, and Igsaan Williams.
-The Citizen
https://sa411.co.za/suspect-used-app-controlled-by-ex-cop-to-track-charl-kinnears-location-report/?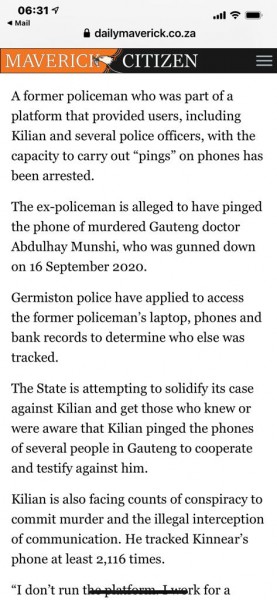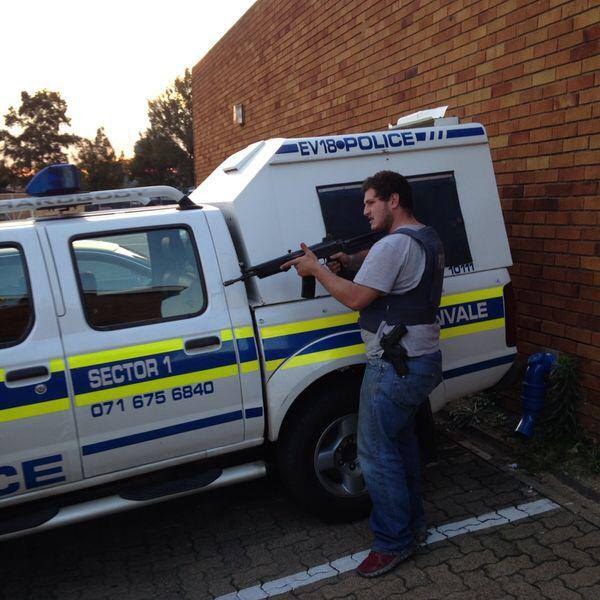 Ex-cop Bradley Goldblatt while he was still a member of the SAPS in Edenvale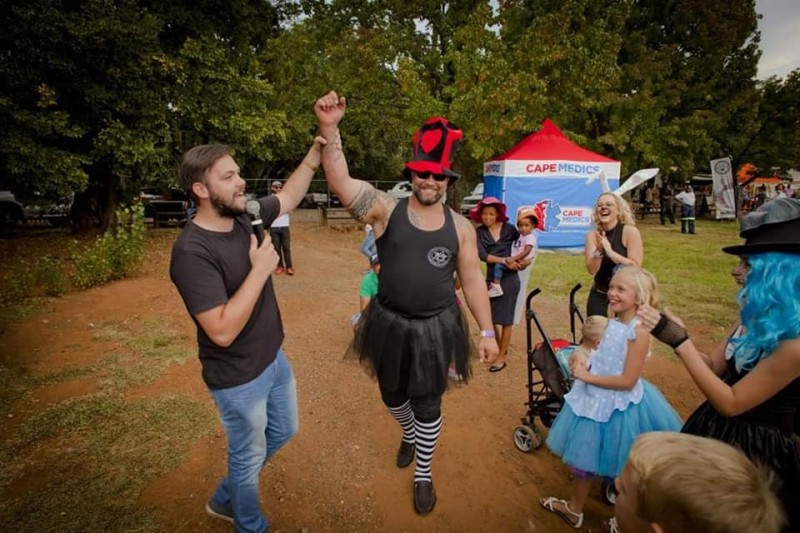 Zane Kilian at a Mad Hatter's Tea Party in Johannesburg which he attended annually with his belated mother
ww.dailymaverick.co.za/article/2020-09-18-fear-grips-anti-gang-unit-members-and-cape-town-suburb-of-bishop-lavis-after-top-detective-murdered-outside-his-home/
https://www.theverge.com/2019/6/14/18679598/facebook-hate-groups-law-enforcement-police-officers-racism-islamaphobia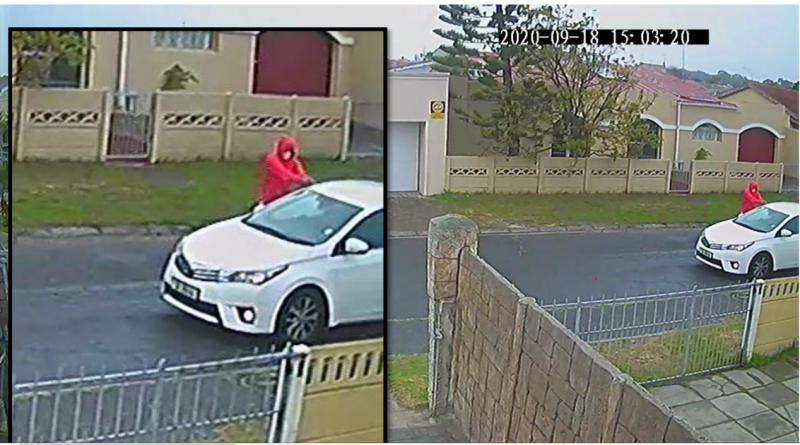 Meanwhile, the alleged Cape Town underworld figure Nafiz Modack, accused of leading a national gun-running scheme, has accused top Western Cape cops of plotting to have him assassinated . . .
https://www.news24.com/news24/southafrica/investigations/nafiz-modack-fingers-top-western-cape-cops-in-assassination-plot-20201031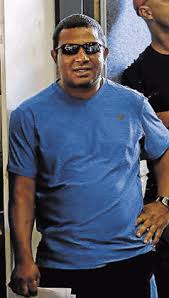 Jerome (Donkie) Booysen, the alleged leader of the Sexy Boys gang, initially brought Zane Kilian into the Kinnear investigation when he came forward to claim that he was "tipped off" by an informant that his phone was pinged by a man called Zane Kilian.
The "ping lists" have now become the centre of the investigation to determine how many "clients" used Goldblatt's platform to gain access to any number of individuals' phones.
Another figure in the Cape underworld, Ernie "Lastig" Solomon (62), also jumped on the bandwagon after it was alleged that his number was also on the ping lists.
https://www.son.co.za/Nuus/Kaapsenuus/lastig-ook-op-foonlys-20201106
Bosniese moordenaars glo gereël om offisiere te vermoor
Deur Maygene de Wee 05 November 2020
'n Vermeende rolspeler in die Kaapse onderwêreld het glo die dienste van vier Bosniese sluipmoordenaars in November 2019 bekom om vier Wes-Kaapse polisieoffisiere te vermoor.
Dié inligting het 'n polisiebeampte verbonde aan die Wes-Kaapse teenbendeeenheid op 13 November 2019 aan maj.genl. André Lincoln, hoof van die WesKaapse teenbende-eenheid, in 'n amptelike verslag verskaf.
Die vier offisiere op die vermeende moordlys was genl.maj. Jeremy Vearey, genl.maj. André Lincoln, lt.kol. Charl Kinnear en kapt. Althea Jaftha.
'n Dag nadat die moordlys aan Lincoln bekend gemaak is, is lt.kol André Kay (52) op 14 November 2019 by sy huis in 11de Straat, Bishop Lavis doodgeskiet.
Kay was verbonde aan die polisie se eenheid wat die bedrywe vir drank, vuurwapens en tweedehandse goedere reguleer.
Die vermoede is dat die aanslag op Kay se lewe eintlik vir Kinnear bedoel was. Sy straat is sowat 850 m van Gearingstraat, Sidneyvale in Bishop Lavis, waar Kinnear tot met sy moord op 18 September vanjaar gewoon het.
Kinnear, speurhoof van die teenbende-eenheid, is voor sy huis in Gearingstraat doodgeskiet terwyl hy vir sy oudste seun gewag het om sy voertuig uit die oprit te trek.
Luidens inligting moes die Bosniese sluipmoordenaars handgranate na die huise van Lincoln en Kinnear gooi om hulle uit die weg te ruim. Dit moes glo dien as 'n boodskap aan enige ander polisielid wat die vermeende rolspeler in die Kaapse onderwêreld wou ondersoek.
Lincoln het volgens inligting van bronne op 15 November 2019 opdrag gegee dat lede van die teenbende-eenheid statiese pligte by Kinnear se huis moet verrig.
Hy het dieselfde dag ook die inligting oor die doodsdreigement by lt.genl. Sindile Mfazi, wat toe die waarnemende polisiehoof van die Wes-Kaap was, en aan Vearey, die adjunk-kommissaris belas met speurdienste, aangemeld.
Ses dae nadat Lincoln die dreigement aan Mfazi gerapporteer het, het hy (Mfazi) 'n epos aan Vearey, Lincoln, Kinnear en Jaftha gestuur waarin hy hulle ingelig het van 'n vergadering tussen die vyf van hulle. Dit was op 21 November 2019.
Volgens inligting was die vergadering vir 22 November om 08:00 gereël. Die oggend van die beoogde vergadering is die vier polisie-offisiere, Vearey, Lincoln, Kinnear en Jaftha, per e-pos ingelig dat die vergadering gekanselleer is. Geen rede is verskaf nie.
Lede van die teenbende-eenheid, wat statiese dienste by Kinnear se huis verrig het, het die volgende dag, op 23 November 2019, 'n verdagte man deursoek wat naby Kinnear se huis rondgedrentel het.
'n Handgranaat is by hom gevind en hy is in hegtenis geneem.
'n Dag ná Kinnear se moord het sy weduwee, Nicolette Kinnear, gesê dat Donderdag 19 Desember 2019 die laaste dag was waarop hulle polisiebeskerming geniet het.
Volgens haar het die polisiebeamptes nog die Donderdagaand daar diens gedoen, maar die Vrydagoggend, 20 Desember 2019, het niemand opgedaag nie.
Sy het gesê geen rede is verskaf oor hoekom die beskermingsdiens onttrek is nie. "Ek weet Charl het gevra, maar tot vandag toe weet ek nie wie die opdrag gegee het of hoekom nie."
Bheki Cele, minister van polisie, het die Saterdag ná Kinnear se dood aan Nicolette gesê dat hy 'n ondersoek gaan las oor hoekom die Kinnear se beskerming gestaak is.
Volgens hom sou die ondersoek binne sewe dae afgehandel wees.
Dit lyk egter nou ná bykans twee maande ná die moord op Kinnear dat die polisie hul voete sleep om die redes vir die onttrekking van die beskerming te ondersoek.
Brig. Vish Naidoo, nasionale polisiewoordvoerder, het Donderdag gesê dat die nasionale polisiekommissaris, genl. Khehla Sitole, 'n voorlopige verslag ontvang het en dat hy na
aanleiding van aanbevelings in die verslag gevra het dat nog 'n interne ondersoek gedoen word.
Volgens Naidoo is die interne ondersoek nou aan die gang.
Hy het ook gesê dat hy geen kennis van Mfazi se e-pos dra nie. "Maar ek is seker as daar so 'n e-pos is, sal dit in die verslag uitgekom het."
Netwerk24 het kort ná Kinnear se dood berig dat Mfazi volgens betroubare bronne die besluit geneem het dat die beskerming aan Kinnear en sy gesin onttrek moet word.
Mfazi het by navraag ontken dat hy enigiets met dié besluit te doen gehad het.
Hy het toe gesê: "Wie is die man van wie jy praat? Waarvan praat jy? Ek werk by nasionaal, ek weet nie wat in die Wes-Kaap aangaan nie."
Hy het ook ontken dat hy in die tydperk toe die beskermingsdiens aan Kinnear onttrek is, die waarnemende Wes-Kaapse polisiehoof was.
Mfazi is in Julie 2019 as waarnemende Wes-Kaapse polisiehoof aangestel nadat die vorige Wes-Kaapse polisiehoof, lt.genl. Khombinkosi Jula, na KwaZulu-Natal terugverplaas is.
Hy het eers in Januarie 2020 die leisels aan Jula se opvolger, lt.genl. Yolisa Matakata, oorgegee.
* Nog net een mens is tot dusver in verband met Kinnear se moord in hegtenis geneem. Wes-Kaapse speurders het Zane Kilian, 'n voormalige beroepsrugbyspeler van Springs in Gauteng, op 22 September by sy huis in hegtenis geneem.
Hy staan tereg op aanklagte van sameswering tot moord, moord, die onwettige onderskepping van kommunikasie en bedrog. Die staat beweer dat hy Kinnear se selfoonsein sedert Maart vanjaar tot die dag van sy moord nagespoor het.
Kilian is intussen ook op aanklagte van sameswering tot moord en die onwettige onderskepping van kommunikasie in die saak van William Booth, 'n bekende Kaapse
strafreg-prokureur, aangekla. Hy het glo ook Booth se selfoonseine nagespoor.
Booth het op 9 April vanjaar 'n sluipmoordaanval op sy lewe oorleef.
Kilian verskyn Dinsdag in die landdroshof in Kaapstad in verband met Booth se saak.
Hy moet weer op 27 November in die streekhof in Bellville verskyn, waar sy regspan 'n gesamentlike borgtogaansoek in albei sake gaan bring.
Kinnear se moordenaar is nog soek.
https://www.netwerk24.com/Nuus/Misdaad/bosniese-moordenaars-glo-gereel-om-offisiere-te-vermoor-20201105