The Golf Development Project, a community upliftment partnership between Transnet National Ports Authority's Port of Mossel Bay and the Garden Route Golf Academy, is changing the lives of 13 local youth. The children, aged between 12 and 14 years old have spent the past two years learning about golf and its various benefits as part of the initiative. At a handover ceremony on 16 November 2018, Port Manager Shadrack Tshikalange handed over a cheque for R100 000 to the organisation, which will assist with the beneficiaries' transportation, equipment, fees, coaching and uniforms among other expenses.
The Garden Route Golf Academy was formed five and a half years ago by AAA Class PGA Teaching Professional, Ben du Toit. It operates from the Mossel Bay Golf Club and offers private lessons, among other services, to adults and children. The academy's Golf Development Project, for underprivileged youth, is modelled on a similar project previously run by du Toit in Namibia. Its purpose is to address the high levels of unemployment and limited work opportunities in Mossel Bay and surrounding areas by developing caddy and golfing skills, which will contribute to social and economic upliftment.
At the handover ceremony, Tshikalange highlighted the project's value. "The beneficiaries are from local homes that care for destitute children. Their exposure to the local golfing community opens opportunity for partnership and support to further develop their golfing careers," he said.
"For many, this is also a chance at being part of a new family. The exposure further opens international scholarship opportunities as some with a good handicap and school results may be offered a golf scholarship in the USA." He added that he hoped the beneficiaries would one day contribute back to the community.
Tshikalange further explained that the children were carefully selected with the help of social workers as it was important for the beneficiaries to remain in line with the developmental impact aspect of TNPA's CSI strategy. "At the Port of Mossel Bay, our support for our community is not only an imperative, but also an absolute honour to make a real difference to transform lives and contribute to an improved environment," he said.
"We support initiatives that underpin deliberate actions that drive sustainable social impact. By putting our care into action, we contribute to a social sustainable world and boost our relationships with the local community too - driving a better South Africa forward."
Du Toit said the children have already made significant progress, with two of them, Tamara Whiteman and Enzo du Plessis, already preparing to participate in a golf event on 7 December.
"In just over two years, the children have mastered really good golf swings, hit great shots and have developed good discipline and sportsmanship skills," he said. "Golf, as a sport, teaches children self-motivation, etiquette, consideration of others, honesty and resilience. Not only do they have something to look forward to every weekend, they are also learning new skills and being exposed to a world that they otherwise would not have known."
He added that the Garden Route Golf Academy was proud to be associated with the Port of Mossel Bay and thanked the port manager and his team for their involvement. "Through the three-year (3) support and partnership with TNPA, a lot of lives have been changed. The ripple effect of this project will positively benefit the communities, families and friends of the deserving children."
Image Gallery:
Port of Mossel Bay Port Manager, Shadrack Tshikalange, hands over a cheque to Ben du Toit from the Garden Route Golf Academy, with some of the beneficiaries of the Golf Development Project present.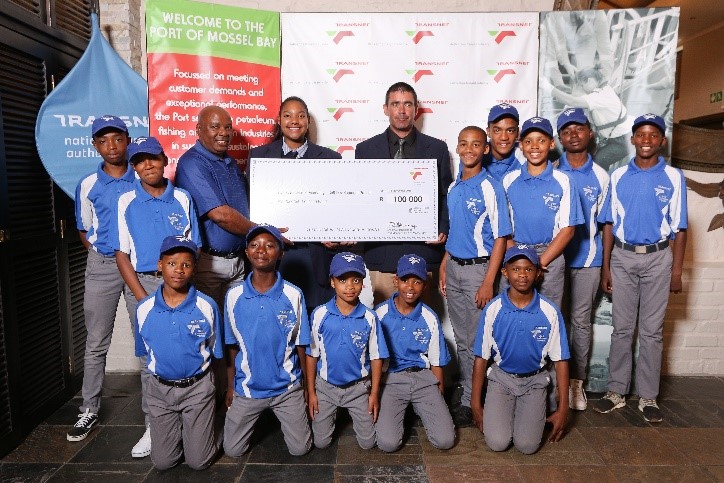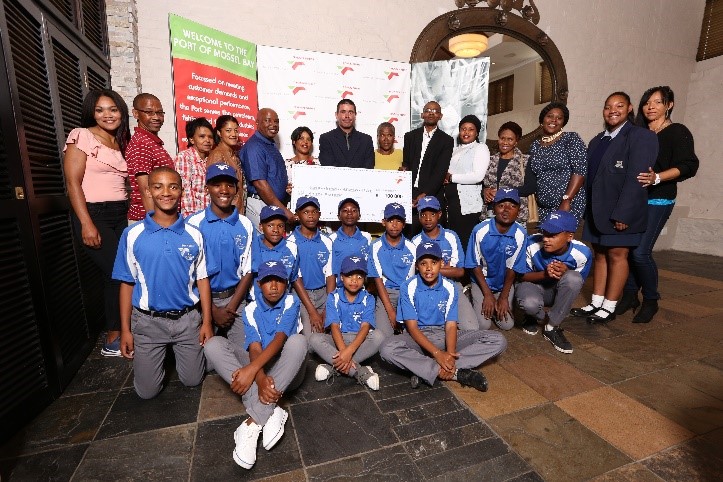 About Transnet National Ports Authority

Transnet National Ports Authority (TNPA) is one of five operating divisions of Transnet SOC Ltd. The National Ports Authority is responsible for the safe, effective and efficient economic functioning of the national port system, which it manages in a landlord capacity. It provides port infrastructure and marine services at the eight commercial seaports in South Africa – Richards Bay, Durban, Saldanha, Cape Town, Port Elizabeth, East London, Mossel Bay and Ngqura. It operates within a legislative and regulatory environment and is governed by the National Ports Act (Act No. 12 of 2005). For more information visit www.transnetnationalportsauthority.net.