When you walk along Suid Street in Eureka Park, Great Brak River, in December, it's like stepping into a fairytale landscape . . .
First you are enchanted by the colourful Hansel & Gretel-like hamlet of artist and special needs teacher Louise Heinike where you can get lost for hours amongst the variety of goblins, fairies, collectibles and bric a brac artfully displayed into a charming, welcoming dollhouse. From a distance it resembles a picture book house made of candy, liquorice and all things nice, bright and beautiful . . .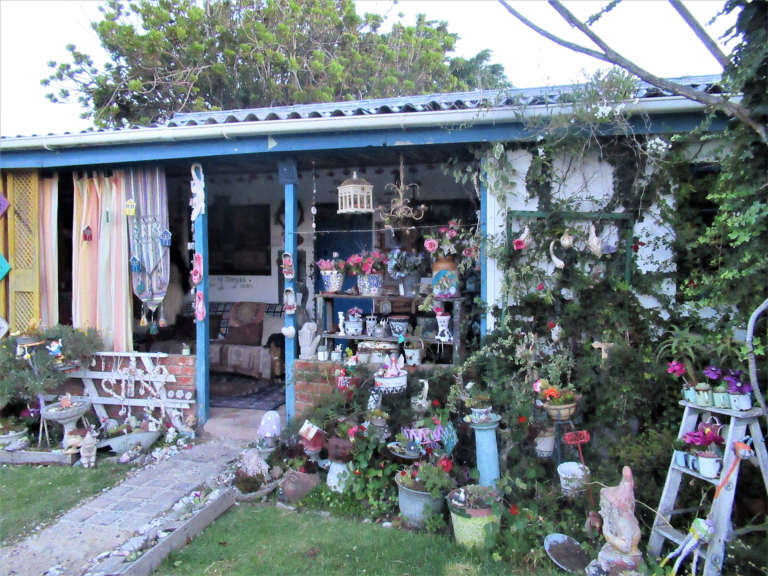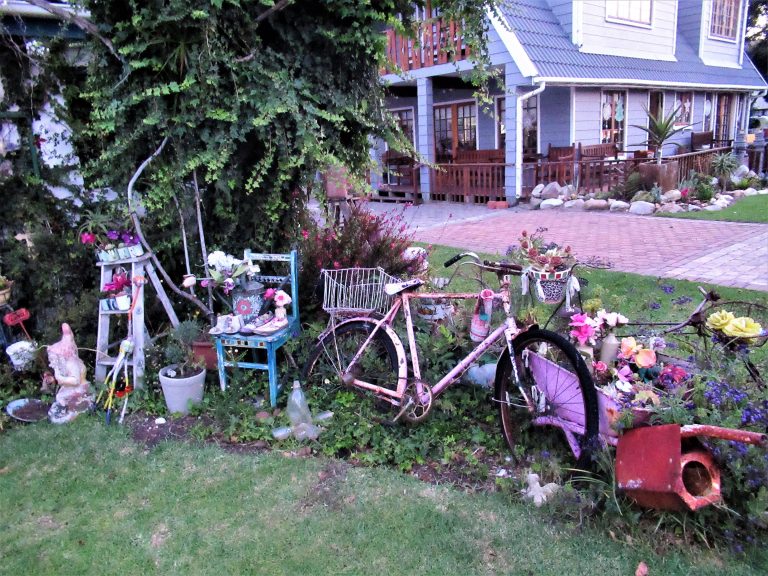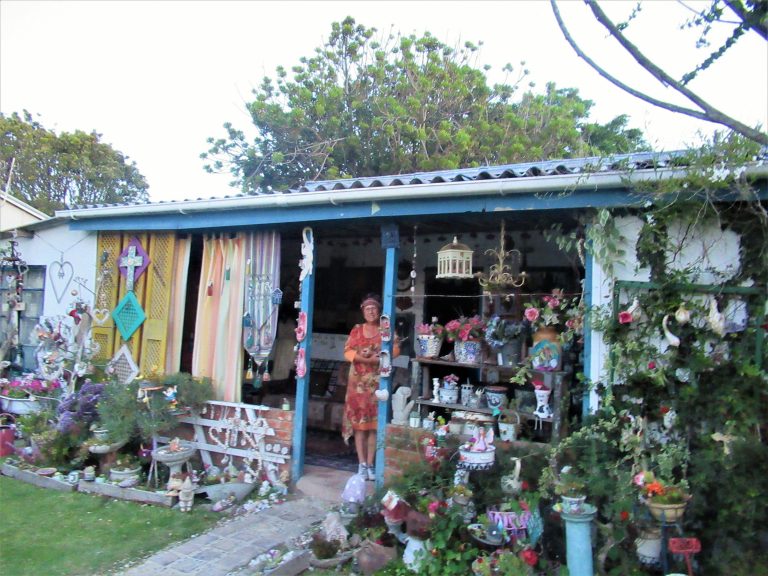 A few yards further, you land upon Santa Clause's quintessential South African home turf . . . the big, red-robed, white-bearded mythical character towering over house and herd, waving welcoming at passers-by. His entire entourage is there – reindeers, sheep, donkey, angels and Baby Jesus in his manger – all brightly lit up and slowly moving in tune with Christmas carols and Jingle Bells joyfully playing in the background.
A festive sight to behold and something up to 500 children from the region are looking forward to every December since Tony and Cherie Bennett started their Christmas project eleven years ago.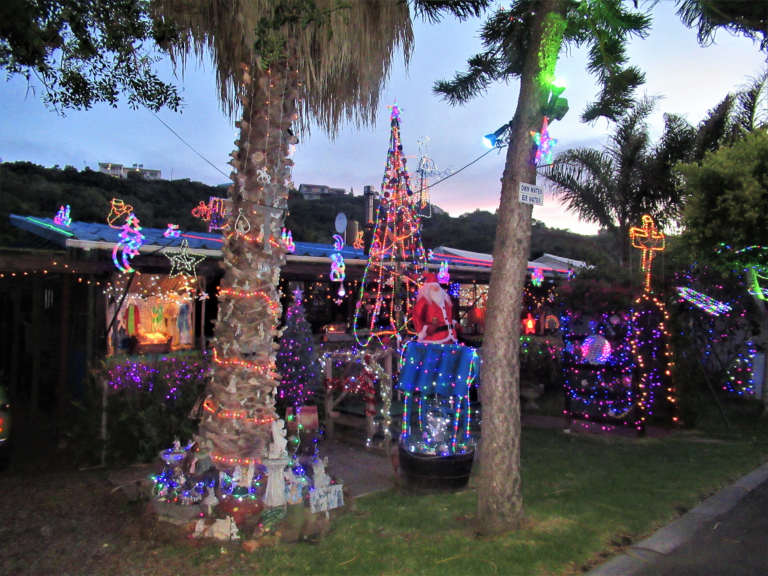 It is a beautiful Christmas story:
We stumbled upon this colourful, festival display earlier this week, drawn by the lights and Christmas songs. Thinking it must be a restaurant, we looked for an entrance beside the gigantic, waving Santa. When a voice came from somewhere between the reindeer and the sheep, we jumped in surprize – thinking it's the reindeer speaking and welcoming us.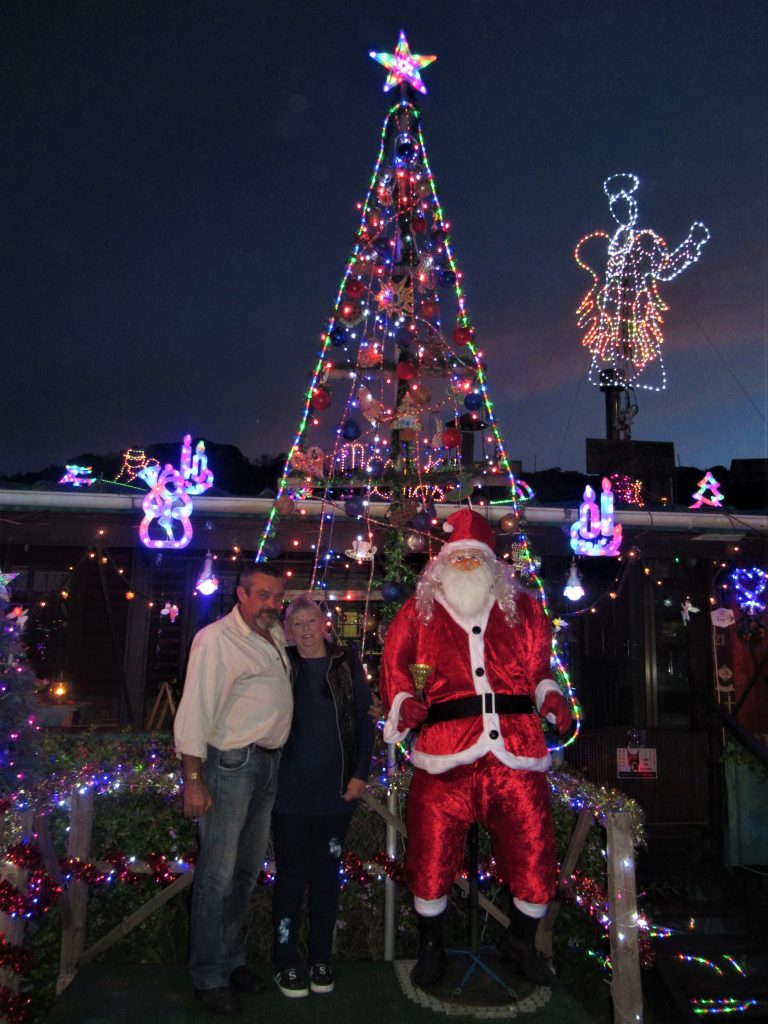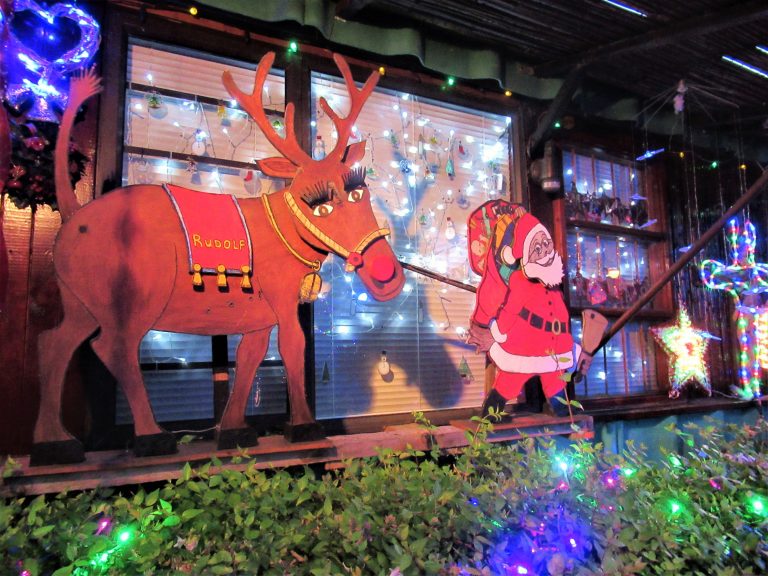 On the stoep Tony and Cherie were sitting in the twilight, giggling and enjoying the moment.
"Come on in, have a look. No, it's not a restaurant, although we get this a lot – people knocking and thinking it must be a eatery or special event place!"
This annual Christmas spectacle is their way of showing gratitude, kindness and goodwill in the true spirit of Christmas. They have been married 42 years – but divorced and remarried each other again three times in that time period while Tony had a drinking problem. When he finally quit the decapitating booze in 2006, they not only renewed their vows, but also decided to use the money that Tony would have spent on alcohol, for a good purpose: to give needy kids a happy Christmas.
It started small in 2006. They bought Christmas presents and had platters of food delivered to their home to create a special Christmas Day for deprived children in the neighbourhood. Tony started accumulating and assembling Christmas decorations and skillfully motorized some of the giant figures himself to move and wave. Word spread and gradually the neighbours caught on with Tony's help – transforming the entire Suid Street into a radiant, shimmering Christmas scene.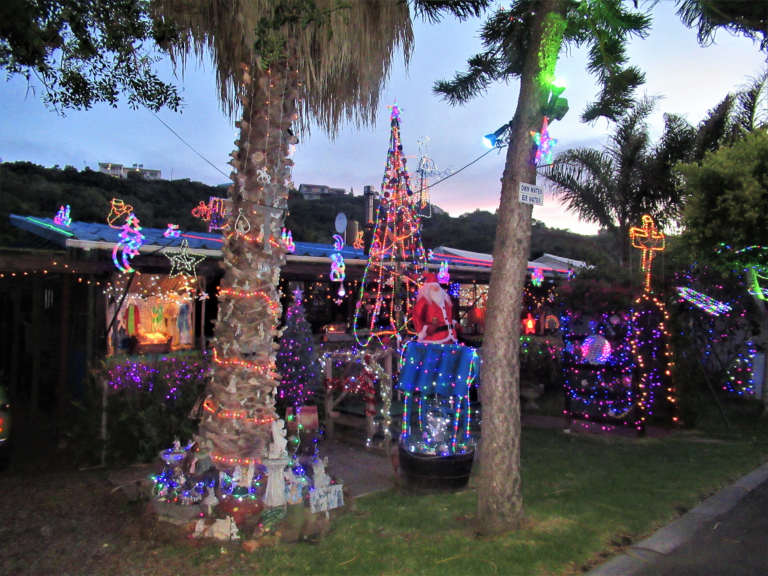 On Christmas Eve (24 December), up to 500 children from as far as George, Riversdale and Oudtshoorn will be the guests of honour at this special Christmas Street festival.
Cherie took us inside to show the beautiful gifts they annually buy for kids from all ages. What started as a small gesture of goodwill, has exploded into a mammoth event that annually cost them around R50 000 and months of sweat, but they don't care or keep record. "We are so blessed. I am retired, but occasionally work as an agent for a blinds factory . . . and somehow, there is always enough money for our Christmas project", Tony said.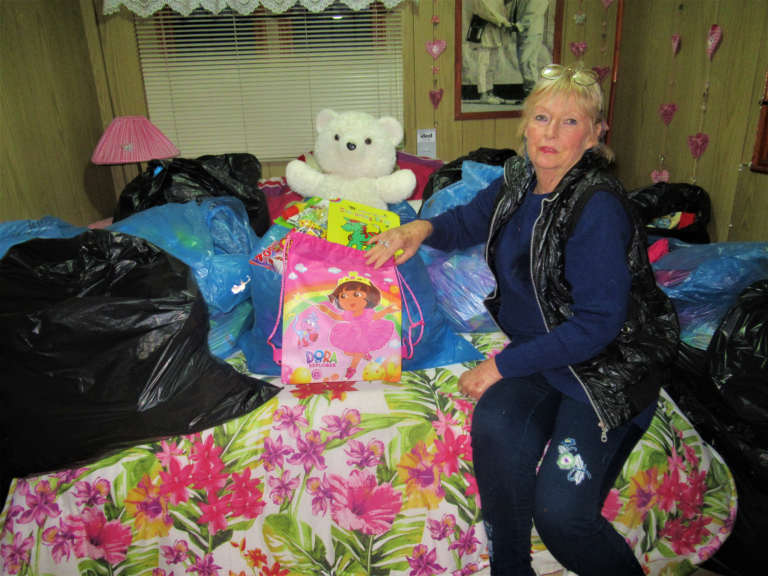 "We don't accept donations. We buy all the gifts, food and drinks ourselves and doing the decorations is an act of love. We have been so blessed and this is our way of saying thank you and giving back to the community. We have learned that you can only receive when you give.
"We are forever grateful!" the couple added in unison.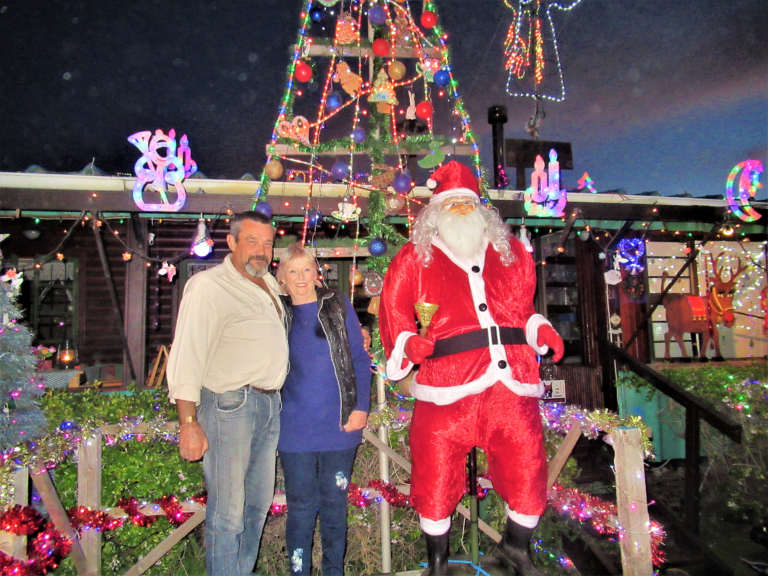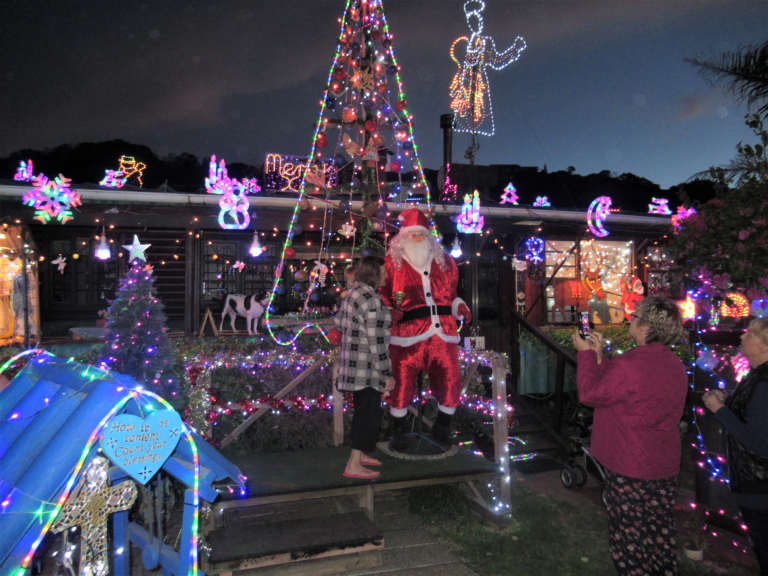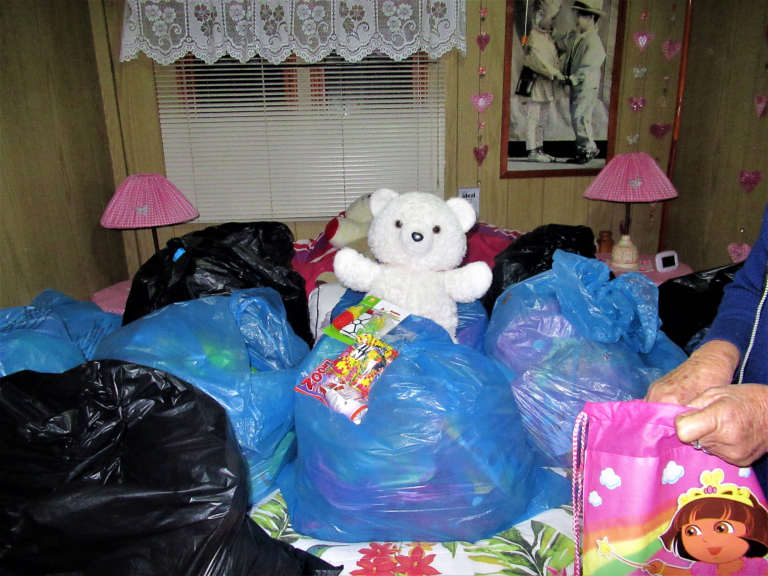 Also watch the video of Suid Street's Christmas lights:
https://web.facebook.com/mosselbayontheline/videos/2066539020244021/