Afro Fishing's application to add a fish meal and oil manufacturing plant to its sardine canning operation on Quay 1 of the Mossel Bay harbour, has caused quite a stir and public outrage - not in the least due to the way it was initially only announced in an unobtrusive municipal notice on a back page of the local community paper where very few people saw it.

While the environmental impact studies and public participation process is still ongoing, we spoke to Afro Fishing's managing director Deon van Zyl, to find out more about his plans.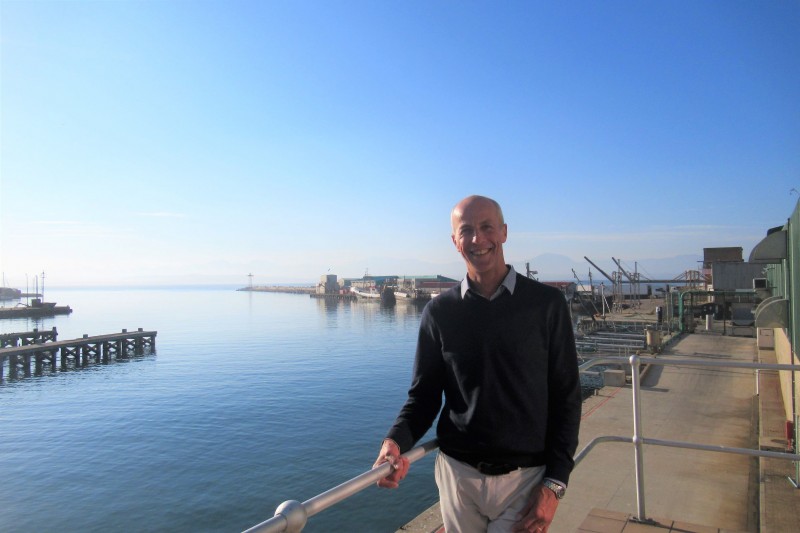 ​Deon van Zyl at Afro Fishing's premises on Quay 1 of the Mossel Bay harbour.
Deon is a qualified chemical engineer with an MBA (University of Cape Town). From Deon's LinkedIn profile, he has mostly worked in the food sector of which more than 20 years was in the fishing and seafood industry.
He returned to South Africa in January 2018 and was recently appointed MD of Afro Fishing (Pty) Ltd in Mossel Bay.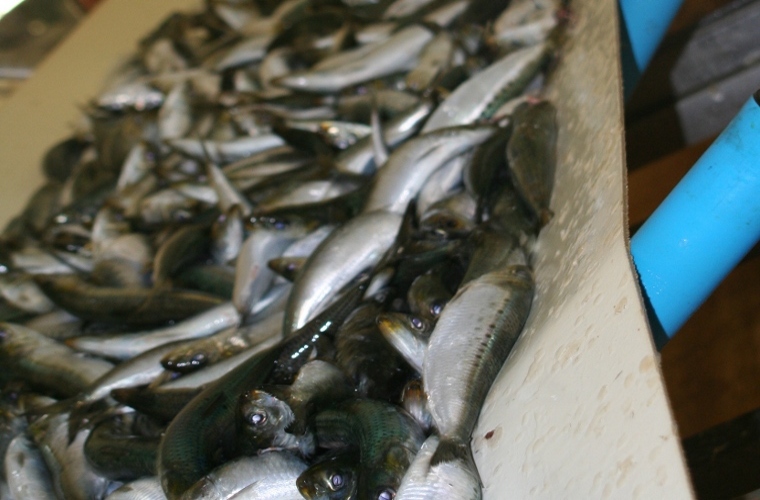 Fish meal plants historically have a bad reputation - not only due to the air pollution and repellent odours, but also water pollution from the continuous dumping of thousands of litres of bloody waste and effluent into the sea. Overfishing is another major concern - especially these days when it is alleged that up to 90% of edible wild fish are indiscriminately caught to supply in the insatiable fishmeal market for animal feed and the aquaculture industry. It is alleged that millions of tons of fish are being harvested from the wild every year to produce fishmeal and fish oil to feed caged fish reared in underwater factory farms, which hugely increases the pressure on already depleted edible wild fish stock. Fish meal plants is also a water-intensive industry putting more strain on drought-ridden areas.
In a pledge for transparency and to dismiss fears that the fish meal factory is part of a ploy to establish the groundwork for open sea fish farming, we asked Deon the following questions:
After your extensive travels and experience, what made you choose Mossel Bay specifically for such a notorious endeavour? Especially in the light of all the ongoing court cases against fish meal factories and aquaculture sea farms in other harbour towns in the Western Cape?
DvZ - Afro Fishing (Pty) Ltd (AF) recently won the bid to lease the old I&J site adjacent to its canning operation with the strategy to grow the business into other related activities. The proposed fish meal and oil facility is a natural extension to the existing cannery as the same fishing vessels are used and both operations are in the small pelagic fishing sector. Yes, we are aware that fish meal plants have in the past generated negative publicity. AF is, however, requesting authorisation for a modern facility, using the best-proven practices and the best odour management system available.
Who are the other directors of Afro Fishing and what experience do they have in fish meal plants?
DvZ - There are two other SA directors, Shemara Daniels and Johannes Augustinus Breed. They have extensive fishing industry experience plus they own freezing facilities, fish meal plants, fishing vessels and canneries in Angola and Namibia.
Afro Fishing has been operating as a sardine cannery operation in Mossel Bay since 2007. Since 2016, it was forced to import thousands of tons of Moroccan sardines in order to meet market demands. This was mainly due to a combination of factors - a drastic reduction in the national total allowable catch (TAC) for sardines, shifting shoaling patterns caused by climate change and poor recruitment (number of fish surviving to enter the fishery or to some life-history stage such as settlement or maturity). Has the local situation re sardine stock changed since and how will an additional fish meal and oil manufacturing plant benefit the company and / or the town?
DvZ - The entire local canned pilchard industry does rely currently on a mix of freshly caught pilchards and frozen imported pilchards. Currently, the industry is going through a period of low TACs for pilchards. The biomass (total weight of sardine in the SA sea) as observed during annual hydro-acoustic surveys has reduced considerably. This is, however, a cyclical fishery and the biomass of pelagic species varies considerably over time due to many factors. Therefore, this fishing sector is regarded as a 'boom or bust' fishery. The main reason is that the species is short-lived and hence dependent mainly on the level of recruitment. * Recruitment means the count of eggs and larvae produced by the current stock and that will mature to become adults. This recruitment requires many environmental processes to come together to grow biomass. The Fisheries Scientists and DAFF have relatively conservative models to determine the annual TAC. The primary factors influencing small pelagic biomass levels are recruitment, predation and climate-related factors.
A fish meal and oil plant will benefit as it will diversify AF into other species, namely anchovy and red-eye herring and into other products and markets. The erection of a cold store will allow AF to process sardinella, another pelagic species fished in Southern Africa waters. Currently, AF only cans pilchards making the company vulnerable to the nuances of the pilchard biomass and a single product. Canning sardinella will also open other products and markets.
What water will be used in the water-intensive industry - potable municipal water, seawater or will a desalination plant have to be used?
DvZ - This is not a potable water-intensive industry. No potable water is added to the products. Water will be required for the boilers, but we will also be installing condensate recovery units to reduce the boiler water consumption. Some potable water is also used for cleaning. The expansion will however not use more water than the previous user of this site used.
Seawater is used for cooling. This is where the large volumes are. This cooling seawater is however returned to sea untainted.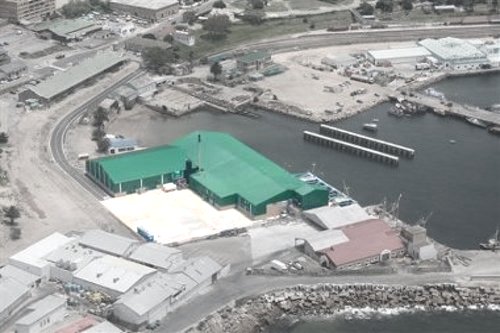 An aerial photo of Afro Fishing's plant on Quay 1 of the Mossel Bay harbour taken in 2010.
It is claimed that ten kg of edible wild fish is used to produce one kg of fish meal for animal food and to feed caged/farmed fish. Isn't that defying the purpose and contributing to the depletion of healthy wild fish species around the globe to fund a false economy that actually causes food scarcity under the noble banner of the World Food Programme?
DvZ - The conversion factor in South Africa is closer to 4kg of industrial fish to produce one kg of fish meal. There is however also fish oil produced for other markets. The fish meal product is mixed with other ingredients to produce agriculture or aquaculture feed. It is important to note that only a fraction of a short-life species is harvested for this purpose. South Africa has a good record at fisheries management and no species has ever been depleted due to overfishing.
The biomass and distribution of pelagic species are assessed bi-annually using hydro-acoustic surveys. These surveys have been conducted without interruption for 35 years. This comprises a summer adult biomass survey and a winter recruit survey. This plus ongoing research of the small pelagic fisheries assist the department to develop, manage and revise the sector Operational Management Procedures (OMP). Data on catch statistics including landed mass, species composition, and catch position and date are also obtained by DAFF for the pelagic fishery.
What fish species and how much will be used in the fish meal and oil manufacturing plant and how will it affect the food chain in Mossel Bay's prolific waters where the marine Big Five - whales, sharks, dolphins, seals and penguins - are still abundant? How can be assured that all other fish species are not being caught indiscriminately as well for fish meal and oil?
DvZ - The intention is to harvest anchovy and red-eye herring for the fish meal and oil plant. The biomass of both these species is currently healthy. Once again only a fraction of the biomass will be allocated to catch as per the OMP's referred to in the previous question. The TAC's are established at levels that have a negligible impact on your big five or other eco-systems.
The quantities will depend on the TAC allocated by DAFF and then the portion thereof AF is able to secure.
Yes, it is correct that sardines play an important role in regulating ecosystem functioning. It is for this reason that DAFF has closed off fishing areas with the aim of eliminating the impact on for example African penguin and Cape gannet breeding colonies.
What are the fish meal and fish oil used for and to where and how will it be exported from Mossel Bay's harbour?
DvZ - Fish meal is one of the ingredients blended with other ingredients to produce various animal and aquaculture feeds and hence controlled by the Department of Agriculture. Fish oil is mainly used as an Omega-3 source for various foodstuffs and health foods.
Both the fish meal and fish oil are packaged in containers and shipped to export customers. Initially, the containers will be road transported to PE for export. The Port of Mossel bay does have plans to become an import/export port. When that happens exports will be direct from the Mossel Bay harbour precinct.
What will happen to the waste/effluent of the plant and how will it be treated not to cause further pollution to the ocean?
DvZ - There is no waste from a fish meal and oil plant. All the landed fish and blood water are reduced into the finished product.
How many people are currently employed full-time at Afro Fishing and how many extra people will be employed full-time for the fish meal and oil plant? How can be made sure that local people get preference to outsiders flocking to Mossel Bay as soon as they hear of another industry?
DvZ - Currently, AF employs 340 staff when we are running two shifts. The expansion plan is expected to increase the total to 500 plus.
AF has a policy of employing locally where possible. The intention is to also recruit locally during the construction phase as was done when the cannery was built.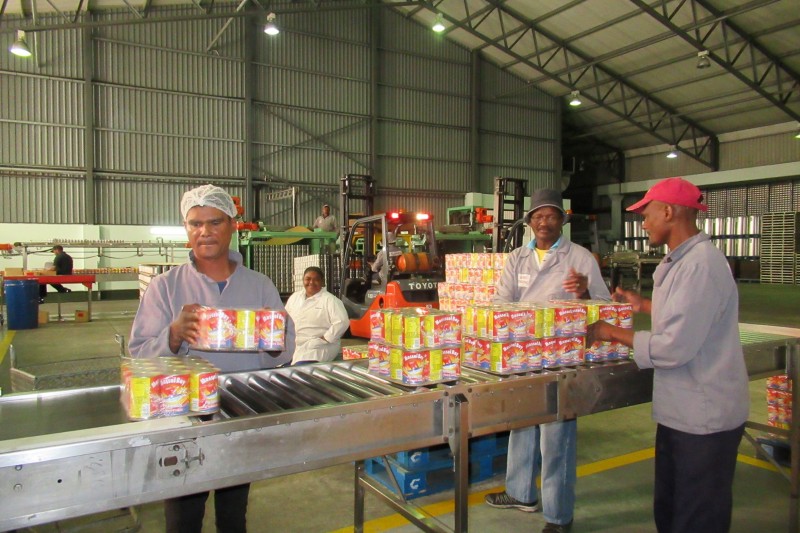 Employees at Afro Fishing's sardine canning operation on Quay 1 of the Mossel Bay harbour. The impressive building and machinery were established in 2007 by Dewald Lourens who started the family-business against all odds in Mossel Bay.
Mossel Bay is traditionally a tourist town with tourism being the main/only? source of income to most local businesses. People fear the negative impacts of such an industry in close proximity to restaurants, guest houses and other tourist attractions will have a severely negative effect on their businesses and cause a much greater loss of jobs than the few hundred jobs that a fish meal plant can supply - again defying the purpose of job creation. False or true?
DvZ - Mossel Bay is not only a tourist town. Mossel Bay has a working harbour, a thriving fishing industry, tourism industry, a gas refinery, gas platform supporting industry, an agriculture sector and many other industries. The drive through Voorbaai certainly does not depict a town that is only based on tourism. The Municipal Precinct Plan and the Transnet National Ports Plan cater for all these industries and opportunities with the aim of maintaining sustainable economic growth and employment opportunities in all sectors, not just tourism.
Air pollution: On certain days (depending on the wind direction), unpleasant smells from the cannery have been offending people in neighbouring buildings for years despite strict control. How will the latest RTO technology and equipment ensure that even worse odours do not occasionally occur?
DvZ - There has not been a single complaint with the current canning operation and AF has always been regarded as a compliant and nuisance free neighbour. I can assure you all odours emitted comply with legislative thresholds. AF also burn 'low sulphur fuel oil' in our boilers precisely to reduce certain emission levels.
Please also note that we are a fishing operation located in the part of the harbour allocated and zoned for fishing and industrial activity.
What are the overall benefits of such a fish meal and oil manufacturing plant to Mossel Bay?
DvZ - Currently the port is operating at less than 20% of its capacity. The site designated for this project has been dormant for almost ten years. This project will develop this site, provide added harbour activity, contribute towards the Mossel Bay economy and most importantly provide much-needed employment opportunities.
What are the worst-case scenarios to the environment?
DvZ - There is no worst-case scenario. There has never been an environmental disaster linked to a fish meal and oil facility. The intention is to expand and grow AF in a sustainable and environmentally compliant manner. There will be no flouting of regulations and environmental laws.
14. On a more personal note: Are you a family man and do you plan to settle in Mossel Bay?
DvZ - Yes, my wife Yvette and I have settled in Mossel Bay. Yvette is an architect. We have bought a property in the area. For this reason, I also want to build a facility that contributes to the economy of Mossel Bay and that does not become a nuisance.
PUBLIC CAN BUY PILCHARDS DIRECTLY FROM AFRO FISHING'S FACTORY SHOP IN THE HARBOUR
Deon van Zyl, managing director of Afro Fishing, invites the public to buy directly from their factory shop at discount prices.
A modern sardine canning factory in Costa Rica that operates very similar to Afro Fishing's plant.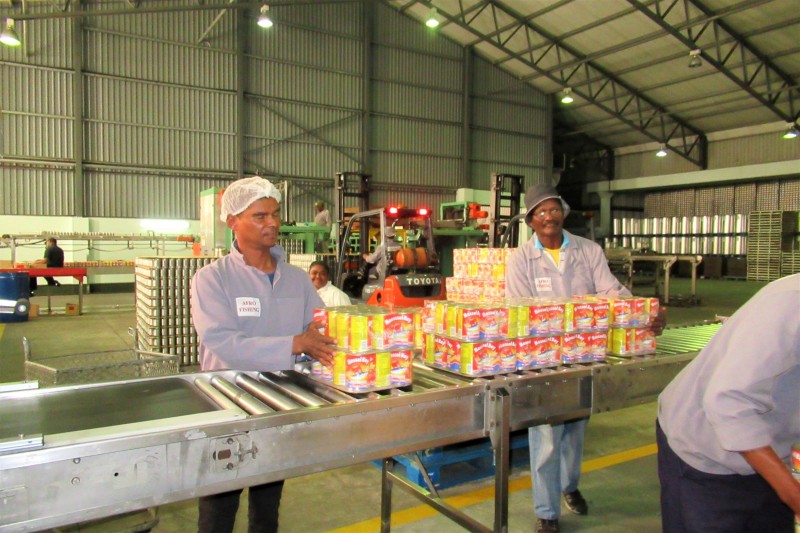 The public is invited to register and participate as an interested and/or affected party (I&AP) in the ongoing public participation process. Click on the link to read more and to register as an I&AP:
http://www.cape-eaprac.co.za/…/MOS569%2…/MOS569.01%20BID.pdf
Also read:
Fish meal and fish oil factory proposed on Quay 1 at Mossel Bay harbour