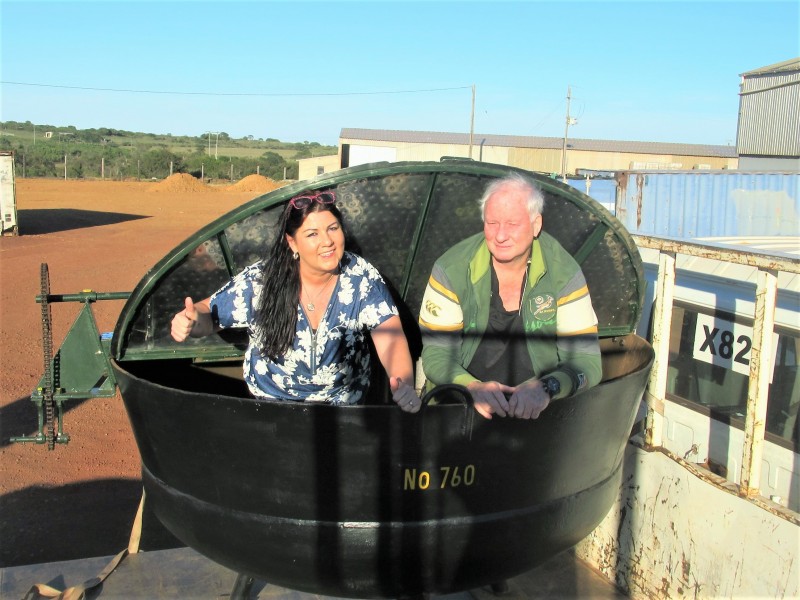 Die vreemde omstandighede waarin twee bekende en geliefde Mosselbaaise mans in twee afsonderlike voorvalle oënskynlik spoorloos van die aardbol verdwyn het, eis nou 'n hoë tol van hul geliefdes en ontlok toenemend meer vrae as antwoorde.
Ondanks uitgebreide en volgehoue soektogte na Julius Verhoog (68) van Island View en Petrus (Peet) Groenewald (70) van Hartenbos wat onderskeidelik sedert 28 Februarie en 9 Maart 2021 vermis word nadat hulle per voertuig hul onderskeie huise verlaat het, is daar steeds geen nuwe leidrade wat meer lig op hul verdwyning kan werp nie.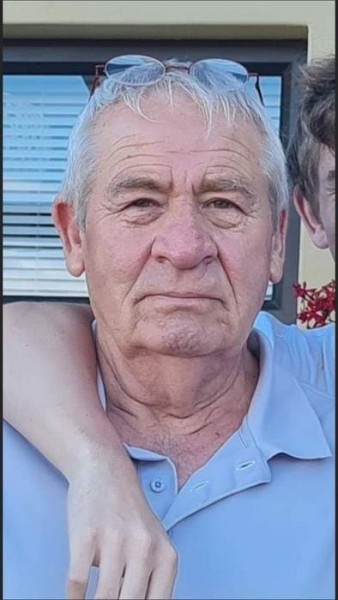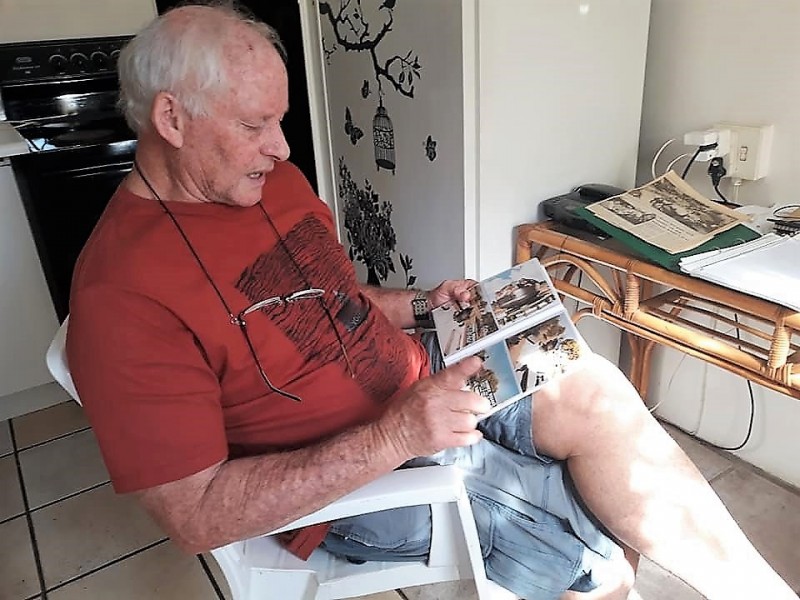 Julius Verhoog (68) links en Peet Groenewald (70) van Mosselbaai wat al weke lank vermis word.
Getraumatiseerde familielede en inwoners wil weet hoe dit moontlik is dat twee volwasse mans só spoorloos kan verdwyn sonder dat iemand hul gesien het of weet waar hulle is.
Mense wil ook weet hoekom dié saak nie wyer en meer prominente nasionale nuusdekking op TV kry nie.
Albei hul vroue, met wie hulle al dekades lank gelukkig getroud is, klou aan die hoop dat hulle wel nog lewend gevind sal word. Hulle doen nou 'n dringende beroep op die publiek landwyd om na vore te kom as iemand dalk een van die twee mans iewers gesien het of inligting het wat tot hul opsporing kan lei.
Julius Verhoog is laas op 28 Februarie in sy grys Citroën op Mosselbaai gesien nadat hy by sy huis in Island View weggery het.
Peet Groenewald, wat in 2018 landwye bekendheid verwerf het met sy reuse-driebeenpot wat met behulp van die Mosselbaaise sakevrou Marika Thomatos opgeknap en omskep is in die hooftrekpleister na die dorp se eerste Soul Festival, is laas op 9 Maart omstreeks 12:30 gesien nadat hy sy vrou 'n piksoentjie gegee het met die woorde: "Lief, sien jou 'n bietjie later."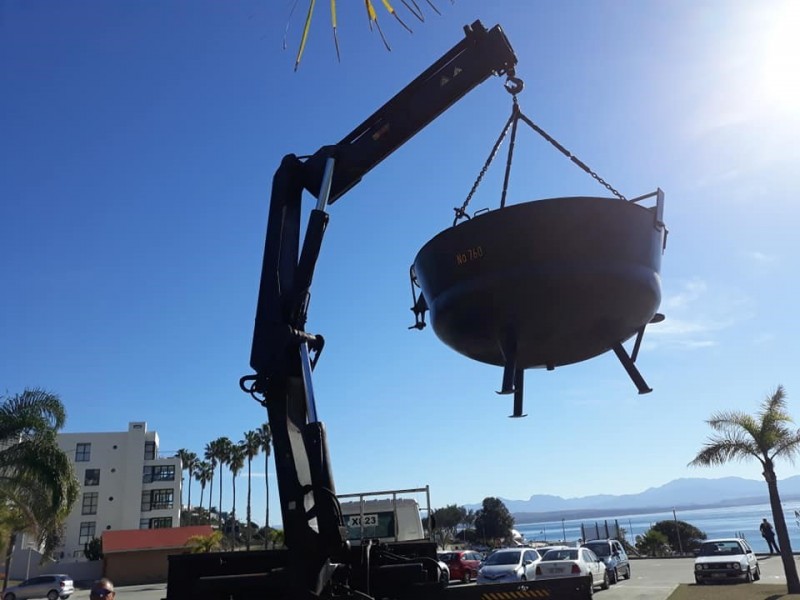 Julius se vrou van die afgelope 47 jaar, Hantie, het aan 'n plaaslike weekblad gesê Julius was die betrokke oggend in die stort toe sy hom gegroet het om 'n afspraak by 'n skoonheidsalon na te kom. Sedertdien was daar nog geen tyding van waar hy homself bevind nie.
Julius het wel 'n brief aan Hantie gelos waarin hy vir haar sê om met haar lewe aan te gaan. Hy het ook 'n brief vir hulle drie kinders gelos. Sy identiteitsdokument en bestuurslisensie, wat altyd in sy beursie is, is egter soek.
Hantie het onder meer gesê sy kan nie met haar lewe aangaan as sy nie weet wat met haar man gebeur het of waar hy is nie.
"Ons soek afsluiting. Dit is verskriklik om nie te weet waar hy is en of hy nog leef nie."
Die egpaar het in 2018 na Mosselbaai getrek nadat hulle vir etlike jare in Roodepoort gewoon en toe na Pretoria verhuis het waar Julius by Mercedes Benz as tegniese ingenieur gewerk het.
Die grys Citroën met registrasienommer CBS 52389 (links) waarin Julius Verhoog laas gesien is.
Peet Groenewald het op 7 Maart sy sewentigste verjaardag saam met sy vrou Miranda tydens 'n wegbreek-vakansietjie op Plettenbergbaai gevier. Hy is kort ná hul terugkoms by die huis , nadat alles netjies afgelaai is, gou in sy bakkie daar weg . . . en nooit weer gesien nie.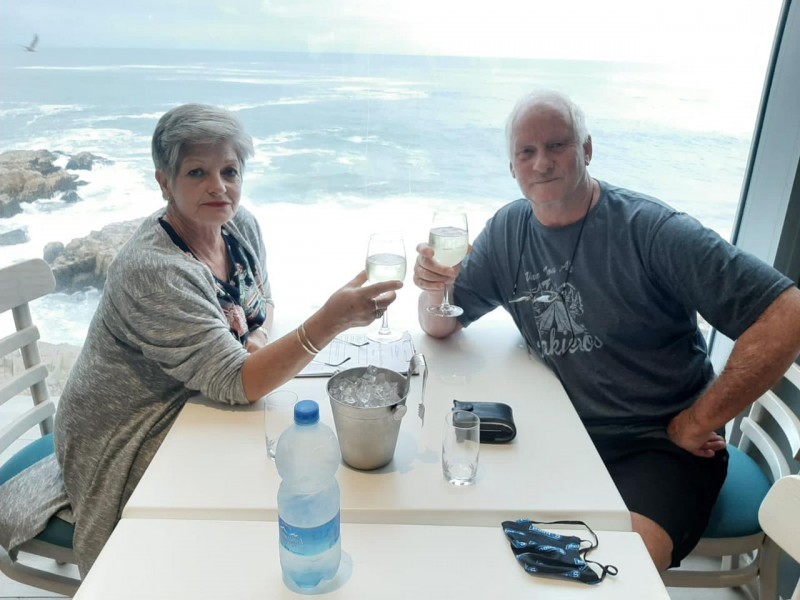 Peet en Miranda vier sy 70ste verjaardag aan die Plettenbergbaaise kuslyn
Peet se wit Toyota Hilux-bakkie is die volgende dag verlate langs die pad by Saasveld in George deur fietsryers gesien wat dit aan die Polisie gerapporteer het. Hy het sy selfoon by die huis gelos en sy beursie met R2 000 kontant was steeds in die paneelkissie. Die sleutels van die bakkie en die drasak met die pistool wat hy altyd aan hom gedra het, word vermis.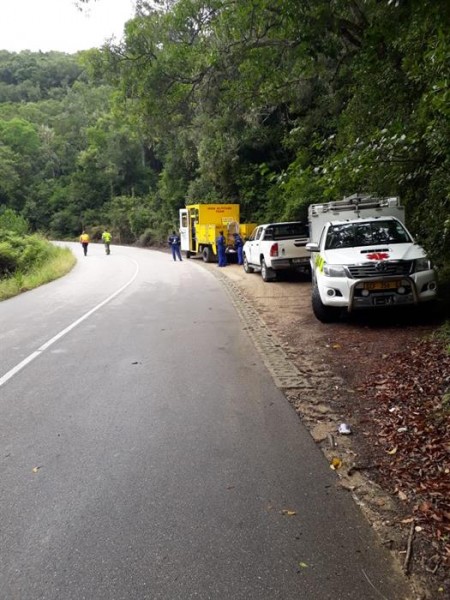 Die digbegroeide gebied by Saasveld naby die Silwerrivier waar Peet se Toyota Hilux-bakkie gekry is.
Die polisie, 'n snuffelhond, lede van Working on Fire en die Wildernis-reddingseenheid is die afgelope elf dae ingespan in die soektog, maar geen teken van Peet is nog gekry nie.
Die Pink Ladies-organisasie is ook betrokke by die landwye soektog.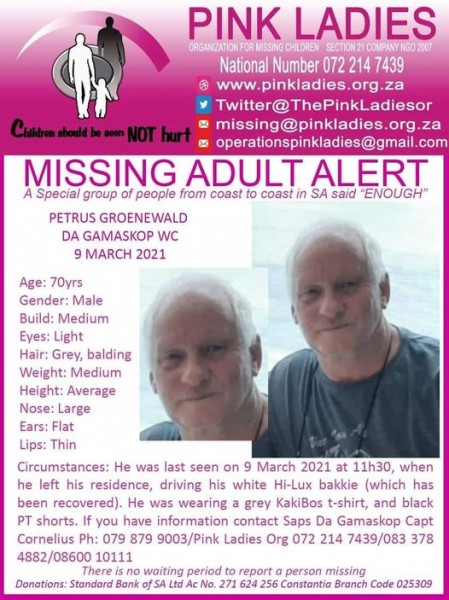 Ook Peet se gesin en familielede probeer hoopvol en positief bly, maar vrees vir sy veiligheid en gesondheid omdat hy ook nie sy chroniese medikasie by hom het nie.
Peet, 'n oupa van vier kleinkinders, is 'n paar jaar gelede met prostaatkanker gediagnoseer en was nog swak en op behandeling tydens die Mosselbaaise Soul Festival met "Peet se Pot" in 2018, maar hy is sedert verlede jaar in remissie.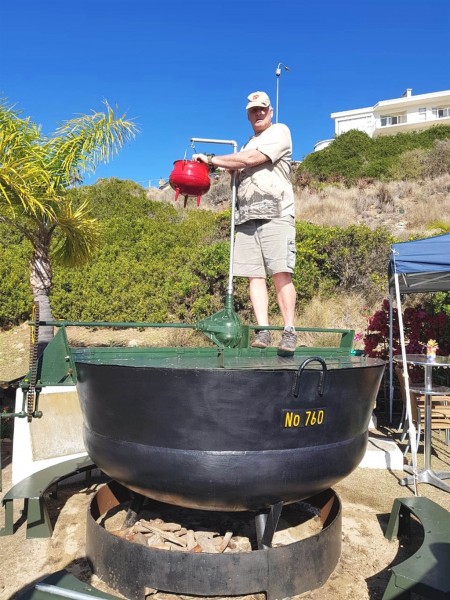 Miranda en hul drie volwasse kinders - twee dogters en 'n seun - se kommer neem daagliks toe en hulle vrees toenemend die ergste as hy nie vinnig opgespoor word nie.
"Ek wil net hê hy moet weet ons is lief vir hom en wag dat hy huis toe kom as hy enigsins kan. Sy drie kinders en vier kleinkinders na wie hy altyd verwys as sy "asem" is ook baie bekommerd oor hom en wil net weet of hy veilig is - die spanning en onsekerheid raak nou te veel", het sy gesê.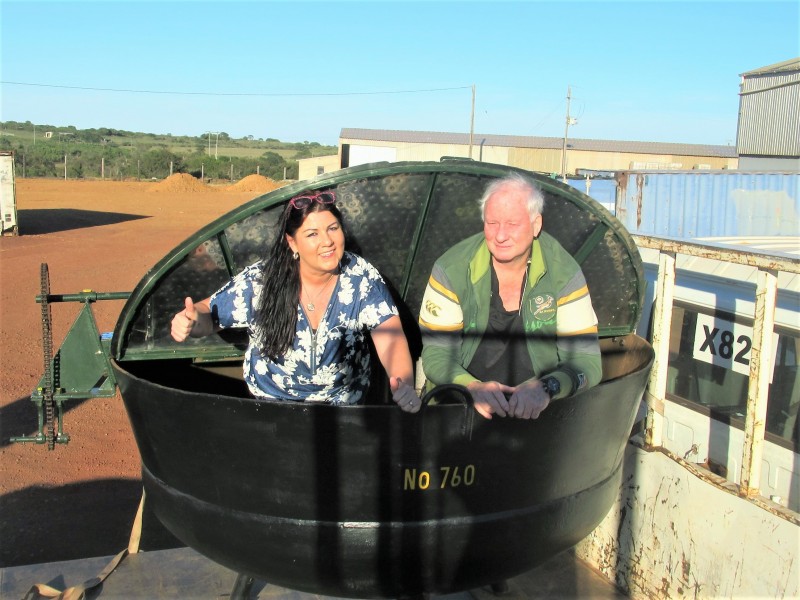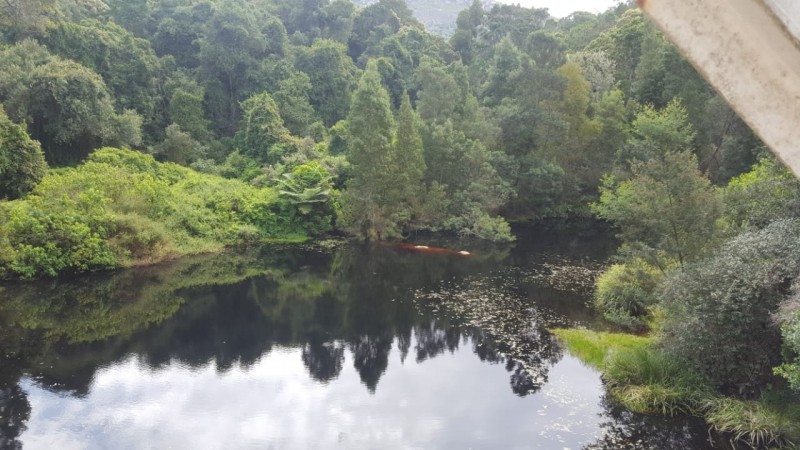 Die digbegroeide omgewing langs die Silwerrivier by Saasveld waar vriende en familie ook na die vermiste Peet Groenewald help soek. Polisieduikers sal na verwagting later ingespan word om die rivier te fynkam as Peet nie intussenopgespoor word nie. Foto's: Marika Thomatos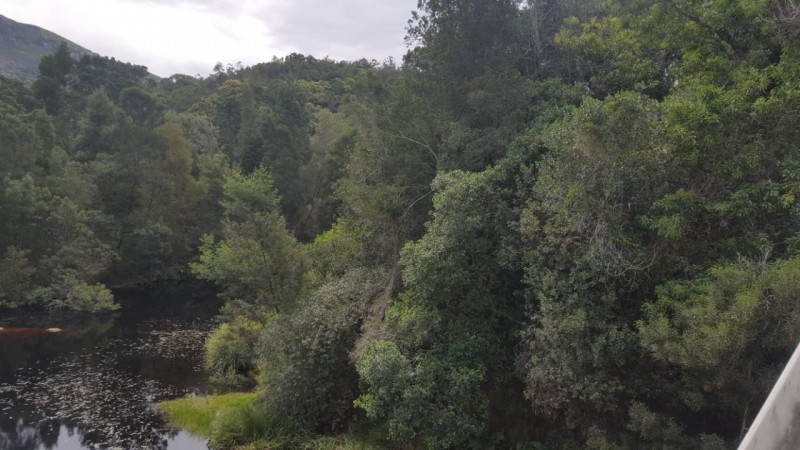 Die polisie doen 'n dringende beroep op enige ooggetuies of inwoners wat dalk Julius se motor sien, of inligting het oor enige van die twee mans, om die ondersoekbeampte in die saak, kapt Carl Cornelius te kontak by 079 879 9003.
So het ons vroeër oor Peet se Pot berig: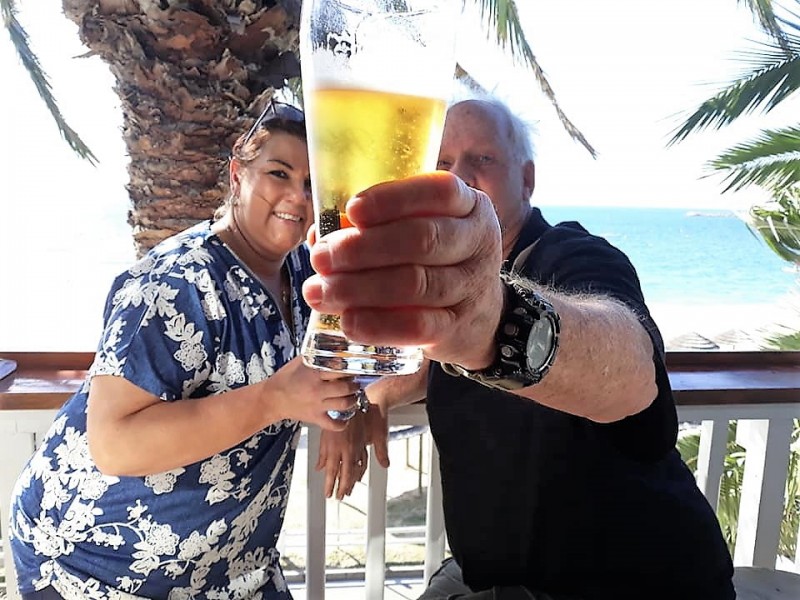 Related Articles: